Animal Crayons
Set of adorable plastic crayons that won't flake or smudge.
Videos

Watch video for: Animal Crayons

0:09 - Animal Crayons are now available in 6-packs and 12-packs. At the time we created this video, the 12-pack had not yet been released.
Overview
Animal Crayons are flake-free, smudge-proof, and partially erasable crayons. Better still, each one features the head of a cuddly critter on its top.

The entire implement is made from plastic crayon which means it won't flake off, streak, or splotch like traditional wax crayons.

Amazingly, plastic crayon markings can be erased so that a new color can be drawn on top of an older color. Each set of Animal Crayons includes either six or twelve different crayons.
Features & specs
Dimensions (per crayon): 4.25" x 0.5" (diameter)
Includes 6 or 12 crayons per set
Won't flake, smudge, or smear
Partially erasable
Non-toxic (conforms to ASTM D-4236)
Ages 3+
You may also like:
Notes on this video
0:09 - Animal Crayons are now available in 6-packs and 12-packs. At the time we created this video, the 12-pack had not yet been released.
Love our videos? Please subscribe to our YouTube channel:
Adorable, flake-free, smudge-free animal crayons!
Kids (even those in their 30s) love to color. Kids also love animals. Combine the two and you've got Animal Crayons! (See how easy it is to create awesome products?)
These sets of adorable crayons are the perfect stocking stuffer, party favor, or job-well-done present for your favorite little tyke.

There is absolutely nothing wrong with a 31-year-old man coloring a picture of Smurfette. Seriously.

Lovable heads also prevent rolling
Each set of Animal Crayons includes either six or twelve adorable critter designs.
Youngsters can more easily grip these chubby crayons thanks to their half-inch diameter. Plus, the animal heads prevent the crayons from rolling off the table. Double bonus!
Please note that the 6-pack always includes the colors in the top row below. Please also note that while the colors will remain the same, the animal associated with each color may vary in your package.


Each set includes either six or twelve adorable crayons.
The 6-pack featuers the top row of colors. The 12-pack features all colors shown above.

Plastic crayons = no flaking, smudging, or smearing
At Vat19.com, we're crayon connoisseurs. The owner has three young kiddos and has thus spent countless hours coloring at a wide variety of restaurants. Simply put, all crayons ain't created equal.
Cheap wax crayons flake off in chunks preventing full, even coverage. This creates a splotchy appearance. Wax crayons also tend to smear and smudge.
Thankfully, Animal Crayons do not suffer from cheap crayon-itis. These are high quality plastic crayons that provide an even and full coverage without smearing, smudging, or flaking. They can even be partially erased. More on that below!

Animal Crayons write smoothly and evenly, unlike cheap flake-prone crayons.

Make a mistake? Replace the color!
Because Animal Crayons are plastic crayons, they can be erased to a substantial extent. You can't fully remove a color, but you can remove enough in order to color over the old color with a new one.
Check out the animated example below. We started coloring Cartman's hat red instead of blue. Oops! We were able to erase the red and re-color the hat in blue. Pretty cool, no?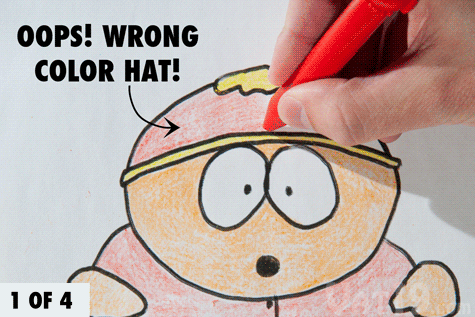 You can erase Animal Crayon markings enough to easily replace colors.

Safe for the whole family
Animal Crayons conform to ASTM D-4236. This essentially means that the item has been tested for toxicity and passed with flying colors. So, if Fido gets angry and chomps off the head of your owl crayon, your pooch is going to be OK. That being said, please don't eat your Animal Crayons.

Animal Crayons are 100% non-toxic.

Choose from a 6-pack or 12-pack
Animal Crayons are available in packs of six or twelve.
The 6-pack includes yellow, orange, red, pink, blue and green.
The 12-packs includes those same six colors in addition to pink, dark green, dark blue, purple, brown, and black.

Animal Crayons are available in two sets: 6-packs and 12-packs.

Where can I buy this awesomeness?
Burning Questions: You Ask, We Answer
Your questions that have been answered by the Vat19.com staff:
Sort by: Show Only:
Want to ask your own Burning Question?
This product is no longer available for purchase directly from Vat19. Therefore, we are no longer accepting new burning questions at this time. Sorry!
Please excuse the shameless cross promotions!