BuckyBalls Rare Earth Magnetic Desktoy
Super-strong magnetic desktoy with hundreds of uses.
You may also like:
Overview
Check out our replacement for BuckyBalls!

It's a desktoy. It's a stress reliever. It's a super-strong magnet. Snap, pull, mold, squeeze, and construct an endless variety of shapes with the BuckyBalls Magnetic Desktoy, a set of super-strong, rare earth neodymium magnetic spheres.

With BuckyBalls, you can create cool shapes like cubes, cylinders, and pyramids. You can even play "darts" on your refrigerator. Or just use them as small, but strong magnets for displaying photos or holding papers.

Available in several styles: Sidekick (125 nickel spheres), Original (216 nickel spheres), Executive Gold (216 spheres), and Executive Black (216 spheres).
Features & specs
Made from neodymium rare-earth magnets
Super Strong - one BuckyBall can hold a half-pound wrench
Ages: Adults only (Keep away from all children)
Includes a plastic carrying case
Two sizes: 125 magnets ("Sidekick") or 216 magnets ("Full")
Full sizes available in nickel, black nickel, and gold
Sidekick available in nickel
An incredibly addictive desktoy
You can make puzzles, structures, games, patterns, shapes, and even stick stuff to the fridge with BuckyBalls.
Check out the short demo videos below to see a few of the designs and structures you can create with BuckyBalls.
BuckyBalls are mighty strong magnets!
These diminutive magnets are incredibly strong. In fact, we dangled a half-pound wrench by a single 5mm diameter BuckyBall.
So, feel free to use a few of the magnets in your BuckyBalls cube to hold some papers to a filing cabinet or stick a photo on the fridge -- BuckyBalls can handle the load.

A single BuckyBall is strong enough to hold a half-pound wrench.
(OK, three BuckyBalls. We had to hold on to something!)
Sets include 125 or 216 rare earth magnets
BuckyBall sets are available in two sizes: 125 spheres (aka "Sidekick") or 216 spheres. All BuckyBalls are 5mm in diameter.
You'll be amazed at how a simple string of spherical magnets can provide so many hours of fun. Simply put, the BuckyBalls Magnetic Desktoy is great for fidgeting.

Each full size set includes 216 rare earth BuckyBall magnets.
The BuckyBalls Sidekick includes 125 spheres.

Challenge yourself to discover cool shapes and designs
Using simple patterns, you can create interesting and fun structures with BuckyBalls, from the classic BuckyBalls cube to the more difficult shapes pictured below.
Unlike the Rubik's cube (whose puzzle borders on torture), unlocking the secret behind these structures is challenging, yet attainable.

Using BuckyBalls, you can create fun and interesting designs.
There are tons of practical uses, too!
In addition to the "play" factor of BuckyBalls, don't forget about their super-usefulness. Each of the magnets is strong enough to hold 8 pieces of paper to a standard filing cabinet (which is probably a little more practical than holding a half-pound wrench).
You can also create a unique business card holder or pen & pencil caddy using BuckyBalls. Of course, there are hundreds more applications, but at some point we must cut the cord and let you uncover more uses on your own.

Hold paper to a filing cabinet, create a unique business card holder, or build a utensil caddy with BuckyBalls magnets.
Convenient carrying case for on-the-go BuckyBallin'
In case you were wondering, "BuckyBallin'" is a verb and if its definition wasn't obvious, it is defined as, "to show off your vast affluence and wealth through your mastery of BuckyBall tricks".
Oh, almost forgot - each complete set of BuckyBalls comes with an orange plastic carrying case.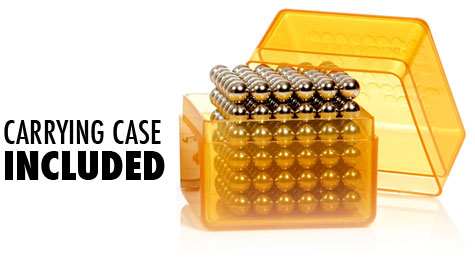 Each set of BuckyBalls comes with a free plastic carrying case.
Available in several styles including black and gold!
BuckyBalls are available in two sizes: 125 and 216 magnets.
The full size sets (216 magnets) are available in the "original" nickel as well as two "executive" editions: black and gold. Black BuckyBalls feature rare black nickel plating, and Gold BuckyBalls are plated with real gold. Trés cool.
The "original" BuckyBalls (both full size and Sidekick) feature nickel plating and appear silver in hue.

Choose from original, black, and gold versions of the BuckyBalls Magnetic Desktoy.

Master the Cube with the Big Book of Bucky
Not sure where to begin with your fresh set of BuckyBalls? Fret not! The Big Book of Bucky will have you BuckyBallin' in no time.
The 77-page book is packed with tips, tricks, inspiring photos from master BuckyBallers, and step-by-step instruction.
Click the image below to view a PDF featuring a few sample pages from the book.

Master shapes and structures with the Big Book of Bucky.

This product has been discontinued. Frown face!
Sorry, but this item is no longer available for purchase.
Burning Questions: You Ask, We Answer
Your questions that have been answered by the Vat19.com staff:
Sort by: Show Only:
Want to ask your own Burning Question?
Unfortunately, this product is not currently available for purchase. Therefore, we cannot accept any new burning questions. Sorry!