Cat Paw Chair Socks (4-pack)
Socks for the legs of your chairs made to look like feline paws.
Protect floors and reduce noise!

Stretchy to fit chair legs up to 1.5"

Durable, machine washable, and adorable!
Overview
Cats are known for their silent behavior, so it only makes sense to style silent chair covers after them.

Cat Paw Chair Socks transform your seat's legs into four feline feet. Aside from just looking cute, the kitten knittin' quiets the dreaded scooting noise of an occupied chair on a hard floor and prevents the chair's legs from clawing up your floor.

So slip some cat-styled stockings on your seat, gather around the dinner table, and enjoy a fancy feast.
Features & specs
Chair leg covers styled after cat paws
Protect floors and reduce noise
Includes 4 socks
Best for chairs with 3/4" to 1 1/2" diameter legs
Material: 65% acrylic, 20% polyester, 10% elastane, 5% spandex
You may also like:
Feline furniture
Slip Cat Paw Chair Socks over the legs of your chairs for a playful and practical furniture decoration. The kitty-themed covers exude personality while working to silently protect your floor from potential scratches.
Silent seats
Cat Paw Chair Socks cushion the feet of your chair as they scoot along your floor. If you've got hard floors, not only is that scooting sound extremely annoying but also potentially damaging. Give your floors nine more lives and your ears a rest.

Finally, pussyfooting is a positive attribute.
Stretchy socks
Cat Paw Chair Socks are versatile enough for most dining chairs. Made with stretchy synthetics like elastane and spandex, the hosiery holds up on chair legs thick and thin.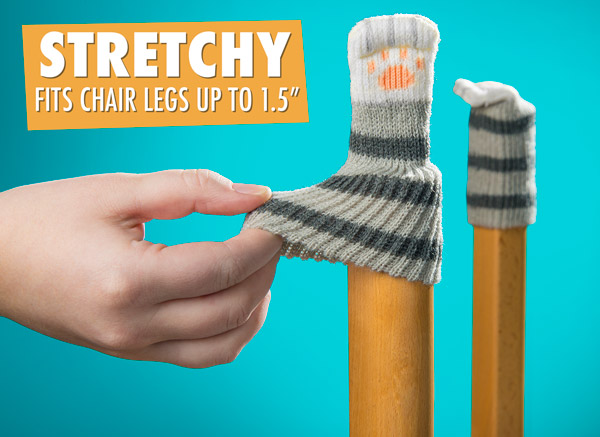 Cats love to stretch, and so do these.
Clean animal
Inevitably your floors are going to get dirty. Whether it's from spills or busy livin', your cat paws will need a washing every now and then. Luckily, the adorable paws are machine-washable so you can always put your best foot forward.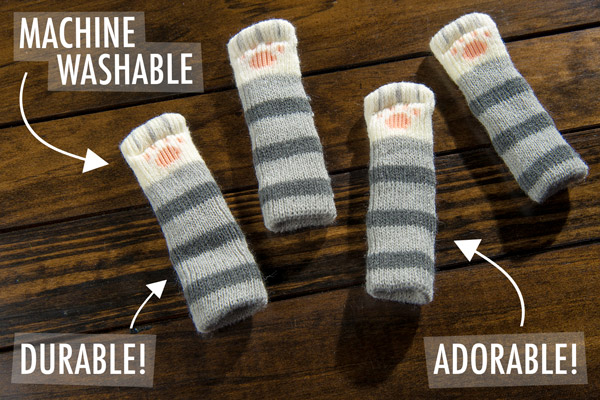 Our testing shows machine washing is more effective than tongue baths.
Frequently Asked Questions
Question: Can humans wear them?
Answer: They're not made for that, but a peglegged pirate could probably slip one on. We recommend human socks for humans and Cat Paw Chair Socks for furniture.
Question: Can I put them on my house cat?
Answer: Your tiny tiger might not like that so much. And good luck finding the paws on your Not-a-cat Cat.
Where can I buy this awesomeness?
Burning Questions: You Ask, We Answer
Your questions that have been answered by the Vat19.com staff:
Sort by: Show Only:
Want to ask your own Burning Question?

First, please watch the

video

to the right. It explains the Burning Question feature and answers some common questions.

Now, if there is something that you need to know about this product that we've omitted, please send us an anonymous question and we promise to answer it within 1 business day.
Please excuse the shameless cross promotions!