Chimeras Mix 'n Match Stuffed Animals
High-quality rearrangeable plush animals.
Videos


You'll love making new creature combos!

Watch video for: Mix 'n Match Plush Toys

Please note that Chimeras are no longer sold as pairs. Each animal is sold separately.

Video: Break This Mix N' Match Animal For $$$$

Mix 'n Match Plush Toys — Bat

Mix 'n Match Plush Toys — Elephant

Mix 'n Match Plush Toys — Giraffe

Mix 'n Match Plush Toys — Panda
Overview
National Geographic has never seen a Batephant... because you haven't created it yet! Chimeras are amazing stuffed animals that have detachable limbs and ears, allowing you to create your own totally undiscovered adorable beast.

Collect the plush toys to form fun combinations like you're the Dr. Frankenstein of plush. You could end up creating a Panbataraffephant!

The appendages attach using high-quality snaps that are durable enough to last through countless configurations, from a Giranda to a Panaffe and back again.
Features & specs
Stuffed animals with rearrangeable appendages!
Available in four styles: Bat, Elephant, Giraffe, and Panda
Durable parts snap together easily
Ultra-soft fabric
Ages 3+
Box dimensions: 14" x 6.5" x 6.5"
Sold separately
You may also like:
Notes on this video
Please note that Chimeras are no longer sold as pairs. Each animal is sold separately.
Love our videos? Please subscribe to our YouTube channel:
Mix-n-match plush toys
You can travel the globe trying to find a Batephant, but you'll never find one until you make one. With Chimera Mix 'n Match Stuffed Animals, you can unsnap the appendages of one animal and attach them to another's body to create new and wild animal mixes!
Take half a Giraffe and switch it with a Panda for a wacky hybrid, or go full Chimera and switch all the arms, legs, and ears to make a Giranda.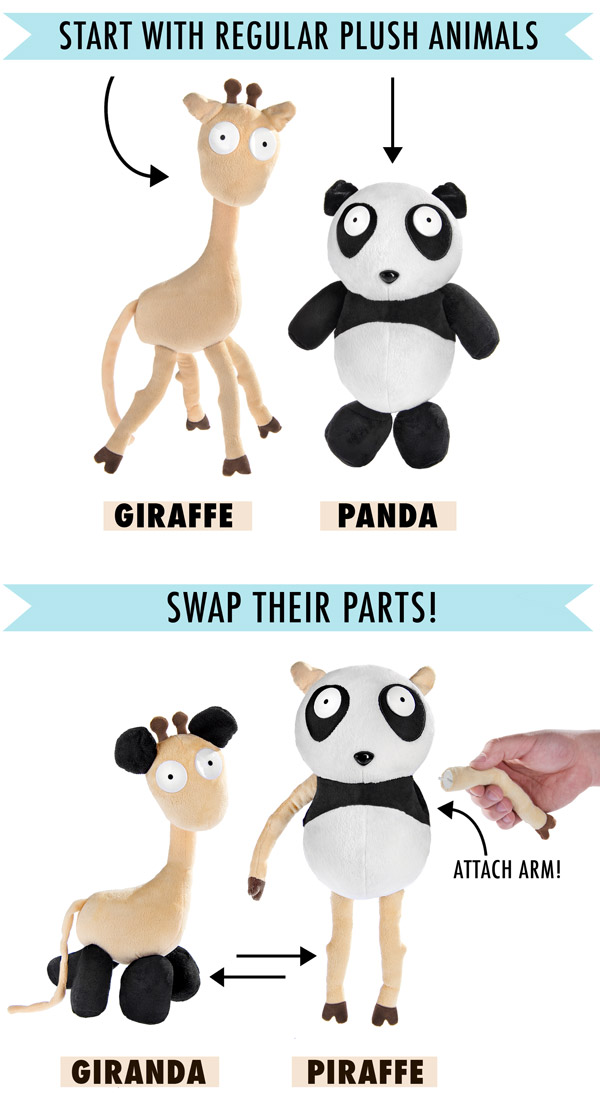 Want a new stuffed animal? Swap a few parts and make one!
Note: Each plush is sold separately.
They did the monster mash-up!
Unleash your inner mad scientist as you create fun animal mash-ups with Chimera plush toys. Experiment with dozens of combinations until you unlock the perfect companion.
I mean look at that guy! It's an Elebat! And he's an adorable abomination!

Collect all of the Chimeras for an entire zoo of animal combinations.
Create new animals in a snap
Each detachable appendage utilizes a sturdy snap system that makes it easy to pop on a new leg, arm, or ear.
And because all Chimeras use the same type of snap, you can combine multiple animals to fashion even more exotic breeds.

Snap on, snap off, construct a new species.
Cute or creepy? Yes!
See how much you can stretch your imagination with the curious combinations of creature parts. Borrow bat wings for your many monstrosities and make them fly! Grab a part or two from the giraffe to give lanky limbs to your other creations. Personalize your pachyderm, or swap parts with other alluring animalia to give your panda a peculiar personality!

You'll love making new creature combos!
Can't live without it?
Smash that 'Add to Cart' button!
Burning Questions: You Ask, We Answer
Your questions that have been answered by the Vat19.com staff:
Sort by: Show Only:
Want to ask your own Burning Question?

First, please watch the

video

to the right. It explains the Burning Question feature and answers some common questions.

Now, if there is something that you need to know about this product that we've omitted, please send us an anonymous question and we promise to answer it within 1 business day.
Please excuse the shameless cross promotions!