Drop Stop Seat Gap Filler
Prevent items from falling to your car floor.
You may also like:
Overview
Car owners know all too well about the dreaded gap between each front seat and the center console; it quickly becomes a graveyard of mints, uneaten french fries, and precious parking meter change. Trying to retrieve something from the gap is not only annoying, it can also be dangerous while driving.

Drop Stop fills that automotive abyss, making dropped items, like your cell phone, easy to retrieve.

The soft neoprene tube wedges easily between your seat and the console with a built-in slot to fit your seat belt buckle. The squishable tube can fit the contours of virtually any vehicle, and the dark color naturally blends in with the shadow of the gap.

Drop Stop keeps your stuff off the floor so you can mind the road and not the gap.
Features & specs
Filled insert that blocks the gap between car seat and center console
Includes two Drop Stops per pack
Universal fit (works for gaps between 0.25" and 3.5" wide)
Does not inhibit seat adjustments
Outer material: neoprene and polyester
Fill material: polyester fiberfill
Approx. dimensions: 17.5" x 2.25" x 2.75" (44.45 cm x 5.72 cm x 6.99 cm)
Love our videos? Please subscribe to our YouTube channel:
Guard your gap
Cars these days come in a wide variety of designs with a dizzying number of customizable options. But the one common "feature" in all of them is a gap that's just big enough to lose your phone and just small enough to prevent you from reaching it. Now it's easy to fill that gap with the Drop Stop Seat Gap Filler.
Drop Stop installs in less time than it takes to decide if that french fry under your seat is still good. Simply pull the female end of your seat belt through the built-in slot, and push the tube into the gap. It's the last thing that'll ever go in there.

Drop Stop is ready in seconds.
Universal use
Drop Stop's simple design also makes it extremely versatile. The squishable tube can squeeze into any gap between 0.25 and 3.5 inches, giving it the adaptability to fit nearly any car.
What's more, this flexible filler is anchored to your seat belt, so it moves with you when you adjust your seat. It's a practical solution that every car owner can use.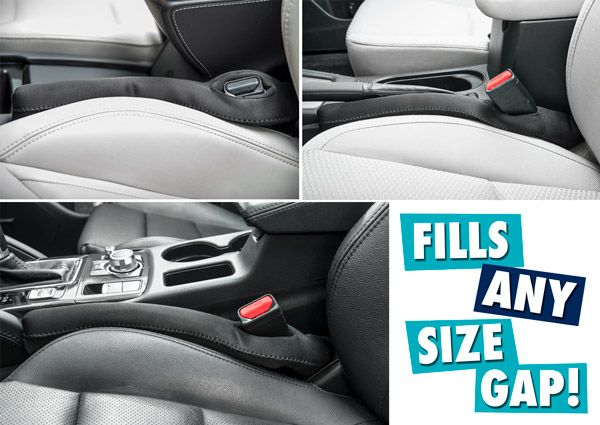 Fits almost any car!
Practical pair
If you've ever peered inside your car's crevice, you know how dirty it can get. Instead of trying to angle a vacuum hose in there, keep that dirt on your Drop Stop. When your Drop Stop needs a quick clean, take it out and shake the crumbs over a trash can. If that doesn't do the trick, the covering (which is liquid and stain resistant) can be easily wiped with a soapy washcloth.
Since those messes don't just happen to the driver, Drop Stop is sold as a two pack. Install one in both the driver and passenger seats to keep both sides of your car clean.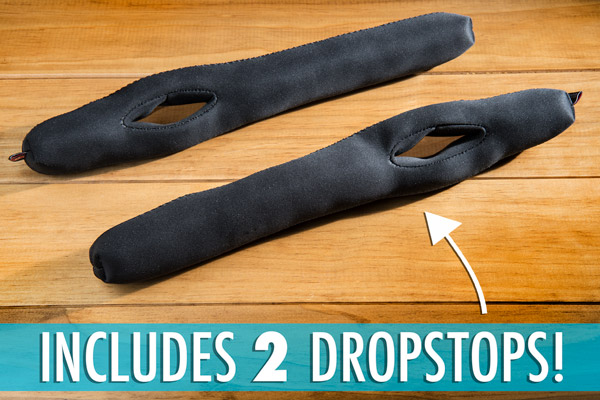 Never mind the gap.
Frequently Asked Questions
Question: Will it fit my car?
Answer: Drop Stop is made of a flexible material, so it can fit pretty much any car. If the gap between your seat and center console is between 0.25" and 3.5", you're in business.
Question: Will my phone be harmed if dropped on it?
Answer: Drop Stop is made of soft neoprene which helps minimize the impact of dropped items.
Where can I buy this awesomeness?
Burning Questions: You Ask, We Answer
Your questions that have been answered by the Vat19.com staff:
Sort by: Show Only:
Want to ask your own Burning Question?
This product is no longer available for purchase directly from Vat19. Therefore, we are no longer accepting new burning questions at this time. Sorry!