Hickies Laceless Shoe Fasteners
Transform any pair of lace-ups into slip-ons!
Videos


If you never bothered to learn what an aglet was, now you don't have to.

Watch video for: Hickies

Video: Tied or Never Tied?

Hickies — Black

Hickies — Neon Rainbow

Hickies — White
Overview
Ditch your shoelaces and slip on your sneakers with Hickies.

Designed with active people in mind, the unique fasteners ensure you'll never have to worry about loose laces on a run again. Hickies' unique high-performance elastomer stretches to conform to your feet, and with a number of different lacing techniques, you can make Hickies fit just right for you.

Hickies also offer something for the fashion conscious, eliminating the clunky-looking knot and bow of traditional laces and streamlining the shoe's silhouette.

Step into something new and never tie your shoes again with Hickies.
Features & specs
14 straps per package
Material: high-performance elastomer
Multiple color choices to fit your style
Works with any size shoe
Adjustable for varying levels of tightness
Ages 4+
You may also like:
Love our videos? Please subscribe to our YouTube channel:
Ditch the knots, slide into Hickies!
Let's face it: traditional shoe laces aren't very elegant. They need to be tied every time you put your shoes on, come untied as you move, get in the way with unsightly lace ends, and you have to untie them to take your shoes off.
And don't even get us started on double knots! It's almost like their inventor lashed his shoes onto his feet as a temporary fix and never got around to thinking of a better idea.
Finally, the permanent solution to untied shoes has arrived with Hickies. The silicone-like straps keep your shoes secured to your feet, but since the bands flex, you can easily slip them on and off without worrying about knots.

If you never bothered to learn what an aglet was, now you don't have to.
Laces made for an active you
Designed for an active lifestyle, Hickies are an excellent no-tie shoelace replacement whether you're running, golfing, playing tennis, or cross training.

Run all day. Hickies can keep up.
One-time install is super easy
Switching to Hickies is a breeze. Simply remove your current laces and slide in your Hickies. They'll work with just about any shoe you already own.
Make Hickies yours
Whether it's for style or comfort, you can lace Hickies to your preference in a variety of ways.
For a classic fit, thread Hickies straight across. For higher impact sports, you might want to try criss-crossing the laces to make them tighter. And if you have especially wide feet, enjoy the spacious feel of the loose fit. No matter what lacing pattern you choose, you'll never need to adjust them again once you've found your ideal fit.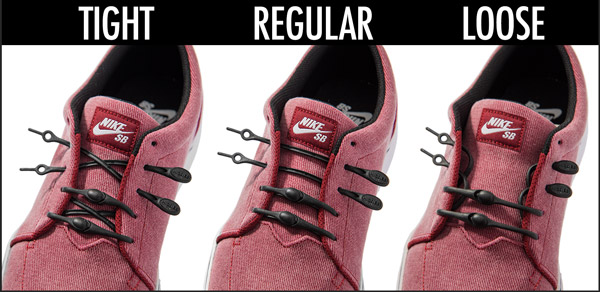 Lace them tight, loose, or regular or a combination for a totally custom fit.
Hickies for adults! Hickies for kids!
Hickies for everyone! The same Hickies that fit in adult's shoes also fit children's shoes too. Now anybody with shoes can slip them on and off.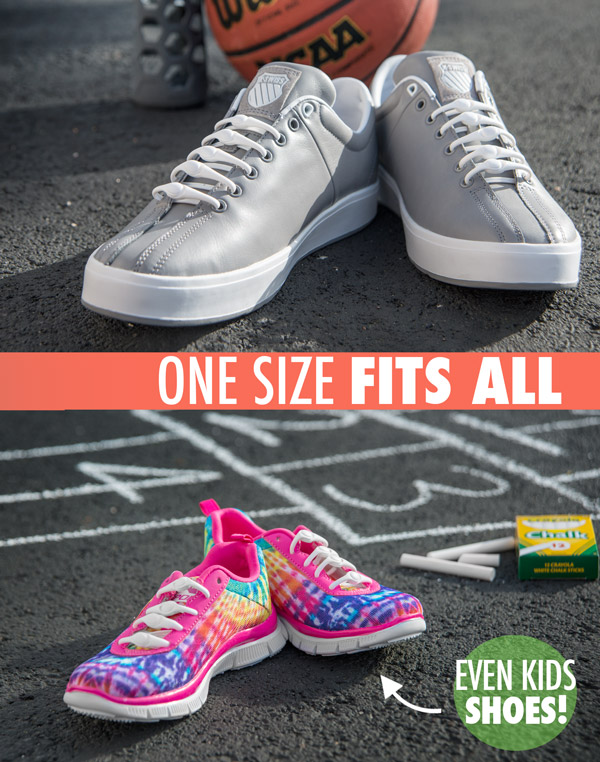 You should probably still teach your kid to tie their shoes, though.
Frequently Asked Questions
Question: How many Hickies come in a package?
Answer: Each package includes 14 Hickies, which is usually enough to replace the laces in two sneakers (one pair of shoes).
Question: Are my shoes compatible?
Answer: Hickies should work with just about any athletic shoe.
Can't live without it?
Smash that 'Add to Cart' button!
Burning Questions: You Ask, We Answer
Your questions that have been answered by the Vat19.com staff:
Sort by: Show Only:
Want to ask your own Burning Question?

First, please watch the

video

to the right. It explains the Burning Question feature and answers some common questions.

Now, if there is something that you need to know about this product that we've omitted, please send us an anonymous question and we promise to answer it within 1 business day.
Please excuse the shameless cross promotions!