Lappers Non-Slip Dining Trays
Prevent spills with these stylish non-slip dining trays.
You may also like:

$13.99
Overview
If you enjoy breakfast in bed or dinner on the couch, you need the Lappersr Dining Tray. These clever trays feature recessed areas for your plate and drink along with removable non-skid silicone mats that anchor your plate and glass to the tray, virtually eliminating spills.

With Lappersr, you can carry your food from the kitchen to the patio without fear of spilling food or soiling your clothes. You can also enjoy your meal on the couch without worrying that any tiny movement will result in a major food disaster.

Lappersr Dining Trays are dishwasher safe and available in several styles.
Features & specs
Dimensions: 18" x 11.5" x 2"
Two removable non-skid silicone mats (one for your glass and one for your plate or bowl)
Large handles
Dishwasher safe (tray and silicone mats)
Made of sturdy melamine plastic
Available in several designs
Watch our Lappers Non-Slip Dining Trays video
Love our videos? Please subscribe to our YouTube channel:
The dining tray that won't spill your food and drink
Lappers® are a simple, yet ingenious redesign of your typical dining tray. In addition to large, easy-to-hold handles, Lappers® feature recessed areas for your plate and drink that are covered with removable silicone mats.
The silicone mats anchor any items you place on them. So, with the Lappers® Dining Tray, you can now feel free to have breakfast in bed. Or carry your plate (piled high with extra servings!) from a crowded kitchen to the patio without any spills.

The clever design of the Lappers® Dining Tray prevents even the heaviest of dishes from slipping.

Removable silicone mats keep your dishes in place
There are two aspects of the Lappers® Dining Tray which make it anti-slip: the first is its recessed areas for holding your plate and your drink. The second is the removable silicone mats. The combination of the two creates a tray that you can hold at a 30 degree angle without any slipping or sliding.
The Lappers® Dining Tray prevents plates, bowls, cups, glasses, and egos from slipping should you encounter any turbulence during your meal.

The removable silicone mats prevent your dishes from slipping on the Lappers® Dining Tray.

Stacks for easy storage
Like any decent tray, Lappers® nest inside each other for convenient storage.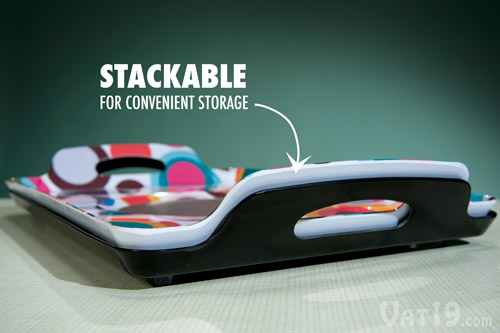 Stack and store your Lappers® when you're not using them.

Lappers® Dining Trays are easy to clean
Simply toss the tray and silicone mats into the dishwasher when it's time to clean your Lappers®.

The sturdy Lappers® Dining Tray is easy to clean. Just toss it in the dishwasher.

Silicone mats are also handy around the kitchen
In addition to keeping your plate and drinkware where they're supposed to be (on your Lappers® Tray!), the removable silicone mats can also be used as a trivet, pot holder (withstands heat up to 600 degrees Fahrenheit), or even for better grip when opening jars.

The multi-functional silicone mat can also be used as a trivet or jar opener.

Available in several styles
The Lappers® Dining Tray is available in the three styles pictured below: Tuxedo (black tray with white silicone mats), Circles (brown silicone mats), and Trellis (green silicone mats).
This product has been discontinued. Frown face!
Sorry, but this item is no longer available for purchase.
Burning Questions: You Ask, We Answer
Your questions that have been answered by the Vat19.com staff:
Sort by: Show Only:
Want to ask your own Burning Question?
Unfortunately, this product is not currently available for purchase. Therefore, we cannot accept any new burning questions. Sorry!