Large Rubber Ducky
Supersized version of the classic bath toy.

$14.99
This item has been discontinued.
Overview
Rubber duckie, you're the one!

This big bird is styled just like the classic novelty toy, only it's three times taller, three times wider, and three times longer than the one you splashed around with when you were a kid.

So whether you want to relive bath time as a baby with a proportionately sized duck, blow your kids out of the water with a new toy, or just want something to smile at while you shower, look no further than this giant water fowl toy.
Features & specs
Material: flexible vinyl plastic
Recommended age: 3+
Approximate dimensions: 10" x 7.75" x 9.5" (25.4 cm x 19.6 cm x 24.1 cm)
You may also like:
Like a duck to water
Splash! Make bath time the best time and drop a Large Rubber Ducky in the tub. The aquatic bird will keep you company as you scrub away the day. There's nothing quite like a bath full of suds and a big rubber duck to make tub time so fun that your fingers get pruney!
Big bath toy
Why only "large"? Because gigantic doesn't fit in the tub. But have no fear; this fine feathered friend is plenty big. To truly get your head around its size, you'll have to get your hands on it. But if you want some scale, this ten-inch tall bath bird can easily capsize your toy boat.

It's a truly quirky quacker.
If it looks like a duck...
This is not a decal, flat disk, or any other kind of 2D disappointment that's just kind of like a rubber duck. No, the Large Rubber Ducky is molded in all dimensions just like the little ducklings it's modeled after.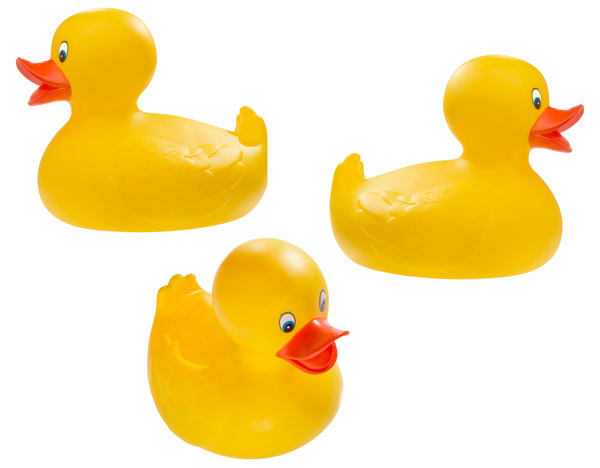 Now that's a mighty duck.
Question: Is it a good pool toy?
Answer: It's technically a bath toy, but water patrol probably isn't going to ticket you if you choose to take it for a swim.
Question: How do normal rubber ducks feel about it?
Answer: We never asked, but if they're anything like Vat19, amused and impressed.
This product has been discontinued. Frown face!
Sorry, but this item is no longer available for purchase.
Burning Questions: You Ask, We Answer
Your questions that have been answered by the Vat19.com staff:
Sort by: Show Only:
Want to ask your own Burning Question?
Unfortunately, this product is not currently available for purchase. Therefore, we cannot accept any new burning questions. Sorry!
Please excuse the shameless cross promotions!