Insta-Luck Four-Leaf Clover
Authentic four-leaf clover in a bottle.
You may also like:
Overview
Boost your arsenal of good luck charms with an Insta-Luck Four-Leaf Clover. Each jar includes one authentic and permanently preserved four-leaf clover.

Hand-picked from true White Clovers (trifolium repens), Insta-Luck Clovers undergo a proprietary five-step preservation method in order to maintain the clover's natural bright color and to prevent decay.

Don't be fooled by the impostors. Insta-Luck Four-Leaf Clovers are the real deal. We'll see you at the casino!
Features & specs
Genuine Four-Leaf Clover
White Clovers (Trifolium repens)
Preserved via 5-step proprietary method
Grown and picked in the USA
Love our videos? Please subscribe to our YouTube channel:
Tilt lady luck in your favor!
Bestow good luck on yourself or your friends with Insta-Luck!
Each bottle includes an authentic and hand-picked four-leaf clover. Before being bottled, the clover undergoes an exclusive five-step preservation process to maintain its vibrant natural green color and to ward off decay.

Every Insta-Luck Clover features four (count 'em!) luck-bearing leaves!
Your Four-Leaf Clover search is over!
In the wild, a four-leaf clover is extremely difficult to find. This lucky mutation only occurs in approximately 1 out of 10,000 three-leaf clovers!
Luckily (pun township!), the company behind Insta-Luck has been doing this since 1939 and knows how to find, pick, and preserve these lucky clovers.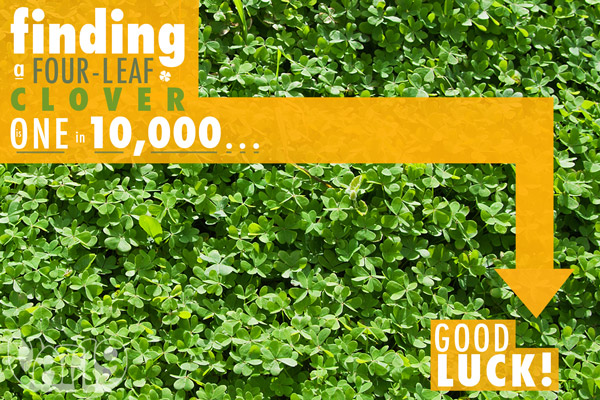 Four-leaf clovers are a genetic anomaly that occurs in only 1 of every 10,000 clovers.

Don't be fooled by those fake (aka luck-less) "clovers"
We went to great lengths to ensure that the four-leaf clover we're selling is the real deal. These are authentic Trifolium repens. Oftentimes, unknowledgeable retailers or scamsters try to pass off other plants (such as Pepperwort or Water Clover) as the genuine good luck charm.
Don't be fooled! Our Four-Leaf Clovers are 100% authentic. Another simple way to spot that these are real is that the fourth leaf is smaller than the other three. Impostors usually have four same-sized leaves.

Oftentimes, unsavory individuals try to pass off pepperwort or water clover as a genuine four-leaf clover.
Frequently Asked Questions
Question: Is this guaranteed to improve my luck?
Answer: The real question is, "Why be unlucky?". It never hurts to pad your chances, right?
Question: How long will my four-leaf clover last?
Answer: If kept out of direct sunlight, the Insta-Luck Four-Leaf Clover will remain in its preserved state indefinitely.
Question: Can I touch it?
Answer: Absolutely! Simply unscrew the lid of the jar and carefully remove it with your fingers or a pair of tweezers. Please note that the clover is fragile. Be gentle with it and avoid direct sunlight (as extended exposure could lead to fading). Also, do not let your clover become wet as this could cause it to disintegrate.
Question: How do I know that this is a real four-leaf clover?
Answer: A four-leaf clover comes from the White Clover (Trifolium repens). There are a variety of other plants that are oftentimes passed off as four-leaf clovers. One tell-tale sign of a fraudulent lucky clover is that all of its leaves are the same size. True four-leaf clovers have one leaf that is smaller than the others.
Insta-Luck Four-Leaf Clovers are hand-picked from fields of three-leaf clovers.
Question: Couldn't I just go to a clover patch and pick my own?
Answer: Sure! That's exactly how Insta-Luck Clovers are found. However, a four-leaf clover is a genetic anomaly that only occurs once for every 10,000 three-leaf clovers. So, you may be searching for a long time! Plus, Insta-Luck Clovers undergo an exclusive preservation process to ensure they last a lifetime.
This product has been discontinued. Frown face!
Sorry, but this item is no longer available for purchase.
Burning Questions: You Ask, We Answer
Your questions that have been answered by the Vat19.com staff:
Sort by: Show Only:
Want to ask your own Burning Question?
Unfortunately, this product is not currently available for purchase. Therefore, we cannot accept any new burning questions. Sorry!