Luminara Ultra-Realistic Flameless Wax Candle
Realistic flame-effect candle made from scented wax.
You may also like:

Overview
Luminara Fireless Candles are nearly indistinguishable from real wick-burning candles.

Eschewing unconvincing flickering lights, Luminara Flameless Candles employ a host of ingenious design innovations to produce a true-to-life flame effect.

An LED placed beneath the surface of the candle shines into a flame-shaped light reflector to produce a convincing yellow glow. To reproduce the dancing movement of a true flame, Luminara uses a magnet to create random motion.

To top it all off, the battery compartment and other electronics of the Luminara are housed within a shell made from actual scented wax.

The Luminara Flameless Candle requires two (2) D batteries (not included) and runs for 500 hours on a single set of batteries. Features an auto-off timer and is available in three scents (vanilla, cinnamon, and forest).
Features & specs
Dimensions: 7" x 3.5" diameter
Made from scented wax
500-hour battery life
Auto-off timer function
Low battery indicator
Indoor use only
Requires 2 x D batteries (not included)
90-day manufacturer's warranty
Love our videos? Please subscribe to our YouTube channel:
Hyper-realistic candle lasts forever, is infinitely safe
The Luminara Fireless Candle will fool just about anybody (yes, even Angela Lansbury!) into thinking its flame is a real burning wick. And that's because the flame-effect technology is insanely realistic, the shell is made from actual wax, and it's scented!

The Luminara Fireless Candle is the most realistic flameless candle we've encountered.
Moves like a real flame (not a strobe light!)
Many low quality flame-free candles use a cheesy flickering LED to product its "flame". A real candle, however, doesn't light itself, extinguish itself, and re-light itself a dozen times a second. That's simply not what candles do.
Candles don't blink. Instead, the flame moves and dances and it is this movement of the light source that causes areas around the candle to become darker or brighter. But the flame itself doesn't turn on and off. And that's why flickering candles look so fake.
Luminara, however, uses a completely different approach! Its light source looks like a flame and it moves like a flame. From a foot away, you'd be hard-pressed to tell that Luminara isn't a wick-burning candle.

From even just a foot away, it's nearly impossible to distinguish a Luminara candle from a burning wick.
Made from real, scented wax
To add to its realism, the Luminara Fireless Candle is made from scented wax! The battery compartment, electronics, and flame-effect components are housed within a scented wax shell. Now that's smart!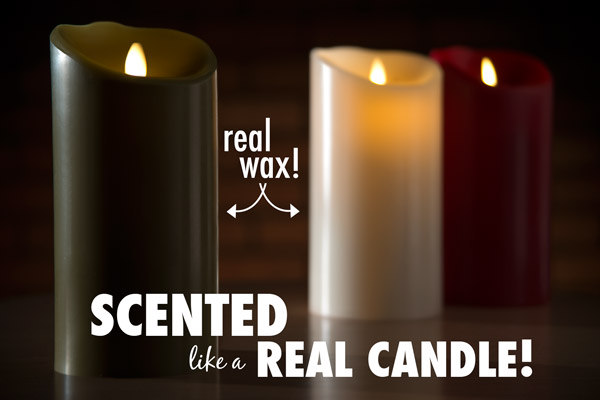 Luminara Flameless Candles are made from real scented wax.
Ingenious design mimics a burning wick
To create a hyper-realistic candle, the creators of Luminara designed an ingenious flame effect.
The light source is a long-lasting LED, hidden from view, and aimed up into a flame-shaped light reflector. To create the dancing effect, a small magnet snake-charms the light reflector to move like a buoy in calm seas.

The brilliant design utilizes an LED, an efficient flame-shaped light reflector,
and a magnet to produce its realistic flame effect.
Auto-off timer preserves batteries
The Luminara Fireless Candle is powered by two (2) D batteries. Because the LED draws so little power, a single set will last for 500 hours. To extend the life of your batteries, you can slide the power switch to the timer setting.
The timer will keep the candle illuminated for 5 hours and "extinguished" for 19 hours afterward. It will continue this cycle until the switch is slid to the off setting. By utilizing this setting, you can have automatic candlelight every night at the same time!

Each set of D batteries powers the Luminara for 500 hours.
Choose from three scents
The 7-inch-tall Luminara Flameless Candle is currently available in three color/scent combinations: red/cinnamon, sage/forest, and ivory/vanilla.

Choose from three colors (and scents!) of Luminara Flameless Candles!
Frequently Asked Questions
Question: How long will the wax last?
Answer: Forever! Because there's no flame (just light), the wax never melts.
Question: Is the scent strong?
Answer: Because the wax isn't melting and wafting around the room, the Luminara's scent isn't as strong as a wick-burning candle. However, it will fill a small room.
Question: Can I use the Luminara outdoors?
Answer: The manufacturer recommends that the Luminara only be used indoors. Weather could ruin some of the electronic components.
Where can I buy this awesomeness?
Burning Questions: You Ask, We Answer
Your questions that have been answered by the Vat19.com staff:
Sort by: Show Only:
Want to ask your own Burning Question?
This product is no longer available for purchase directly from Vat19. Therefore, we are no longer accepting new burning questions at this time. Sorry!