Mini Crystal Ball Kit
A fortune-telling orb that answers yes or no questions with a voice from beyond.
You may also like:


Overview
Will you find love? Are you making good decisions? Will tragedy befall you? No one can know the future for sure, but perhaps you could gain a glimpse of what might be when you gaze into the Mini Crystal Ball kit.

Set the frosted glass orb onto the base, put yourself into a seer's trance, and wave your hands over the apparatus to channel the divining spirits (remember to switch the power on first, and be sure to touch the red dot on the base as you prognosticate).

A glowing blue aura will emanate from within the crystal ball accompanied by mysterious music and an unembodied voice that will give you a response to the question that you've been pondering. In between readings, be sure to crack open the 48-page booklet to read about the history of crystals, soothsaying, and opening your mind's third eye.
Features & specs
A miniature orbuculum with voice responses
Includes 15 different responses
Includes a mini glass crystal ball with a motion-activated light and sound and a 48-page mini book
Orb diameter: 1.6" (4 cm)
Base dimensions: 1" height x 2" diameter (2.54 cm x 5.08 cm)
Total height: 2 1/4" (5.7 cm)
Touch the red dot to scry a prophecy
Recommended for ages 8+
Battery-powered with an on/off switch on the bottom of the removable base (3x LR44 batteries included)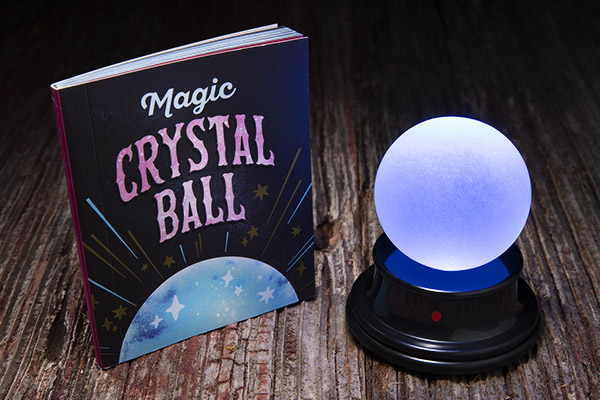 Love our videos? Please subscribe to our YouTube channel:
Burning Questions: You Ask, We Answer
Your questions that have been answered by the Vat19.com staff:
Sort by: Show Only:
Want to ask your own Burning Question?

First, please watch the

video

to the right. It explains the Burning Question feature and answers some common questions.

Now, if there is something that you need to know about this product that we've omitted, please send us an anonymous question and we promise to answer it within 1 business day.