Piperoid Paper Pipe Robots
Paper craft robots made entirely from paper tubes.
You may also like:

Overview
Piperoids are desk-sized robotic characters made entirely from colorful paper pipes. Starting with a handful of tubes and only a pair of scissors, you can build a Piperoid Robot in roughly 30 minutes via a series of cuts and folds.

Because all Piperoid characters are built using the same diameter of pipes, pieces can be interchanged to create awesome hybrids. Furthermore, the absence of glue and tape allows you to move all of their joints.

Piperoid Paper Robots are a wonderful project for all scissor-wielding children and adults. Available in a variety of styles.
Features & specs
Dimensions: approximately 3"-4" tall depending on the character
Made entirely from paper
Easy-to-follow instructions featuring full-color illustrations
Made in Japan
Available in four styles
Recommended ages: 10+ (younger children will need parental assistance)
Love our videos? Please subscribe to our YouTube channel:
Build Piperoid Paper Pipe Robots entirely from paper
Piperoids are awesome little desktop robots made entirely from paper pipes. Armed with merely a pair of scissors and the easy-to-follow instructions, you can turn each set of tubes into a colorful robotic character in about 30 minutes.

Building Piperoid Paper Pipe Robots is like crafting...but cooler.

Turn a series of paper pipes into a cool desktop robot
Piperoids begin life as a set of paper pipes. You breathe life into them by cutting and folding the tubes according to the detailed, yet surprisingly simple-to-follow instructions. No tape or glue is required.

Turn a series of paper pipes into a desktop papercraft robot with merely cuts and folds.

Create Piperoid Paper Robots with only a pair of scissors
Each "section" of paper pipe is numbered. Folds are designated by solid black lines; cuts, by solid white lines. Using these conventions along with full-color illustrations, you'll find it quite fun and easy to construct your very own Piperoid.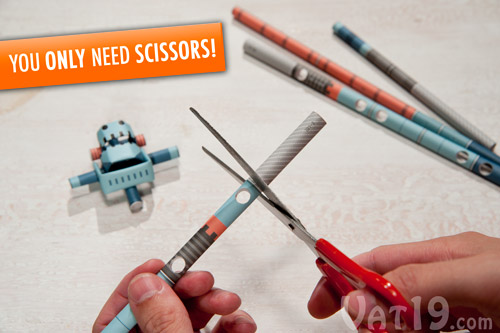 Construct Piperoids using just a pair of scissors and your two little hands.

No tape or glue = movable joints
Piperoids are completely devoid of glue or tape. Therefore, all of their joints are movable and easy-to-pose. We figure non-moving robots wouldn't really be robots at all. They'd be paperweights...just like that old laptop running Windows 95.

The absence of tape and glue means all of the Piperoid's joints are movable.

Coolest business card holder - ever.
Some cynical types might be wondering to themselves, "Well, what do I do with the Piperoid once it's built?"
First, building the Piperoid Paper Robot is a huge part of the fun. Remember that constructing things that look awesome is sort of what made guys like Michelangelo pretty darned famous.
Second, Piperoids are essentially action figures. And like any action figure, you're supposed to play with them! They don't really "do" anything until you start using your imagination. For those of you who don't remember, your imagination is that really cool thing your brain used to do before Corporate America sucked it out and replaced it with PowerPoint presentations.
Lastly, (and now that we've won our argument that the Piperoid Robot need not "do" anything to be awesome), you could use them to hold business cards or small notes.

Turn your Piperoid into darned near the coolest business card holder ever.

Create new breeds of Piperoids with interchangeable parts
All Piperoids are constructed from 1 cm diameter paper pipes. Therefore, you can create some pretty interesting hybrid robots by swapping their parts.

All Piperoids are constructed from paper pipes of the same diameter. Thus, they are easily interchanged.

Choose from a variety of styles
Piperoid Paper Pipe Robots are available in the following styles: Mantis Harry, Muscle Joe, Guyzer & Bean, and Penk & Goriborg.
Please note that Guyzer & Bean and Penk & Goriborg consist of two robots. We realize that should be fairly obvious, but...well...you've probably read some of our Burning Questions. Sometimes, it appears that everyone isn't coloring with a full set of crayons.

Choose from a variety of Piperoid Paper Pipe Robots.
But, honestly, you know you should buy all of them.

Frequently Asked Questions
Question: How long does it take to make each Piperoid?
Answer: Any Piperoid can be made in about 30 minutes or less (depending on the difficulty of the robot). The most difficult is Guyzer & Bean, but it can still be finished in about 30 minutes.
Question: What's the age range?
Answer: Kids under 10 will probably need the help of a parent.
Question: I noticed these are made in Japan. Are the instructions in English?
Answer: The instructions to create your Piperoid Paper Robot are written in both English and Japanese. However, the full-color illustrations are so clear that you really don't even need written directions.
Where can I buy this awesomeness?
Burning Questions: You Ask, We Answer
Your questions that have been answered by the Vat19.com staff:
Sort by: Show Only:
Want to ask your own Burning Question?
This product is no longer available for purchase directly from Vat19. Therefore, we are no longer accepting new burning questions at this time. Sorry!