SoapStones hand soap
Add these purifying pebbles to your soap dish.
You may also like:
Overview
Whether it's a cool spring rain washing down over the earth, a meandering forest stream trickling over stones, or a majestic ocean wave crashing against the rocks on its shore, the cleansing power of nature is all around us.

Add these perfectly honed pebbles to your soap dish and experience a touch of nature in your own home.
Features & specs
Variety of natural colors
Approximately 15 stones
Attractive packaging
SoapStones Hand Soap

Each package of SoapStones includes about 15 cleansing pebbles.
Add a touch of nature to your soap dish
The soothing power of nature is all around us (especially when you're on a picnic where you're sure to be using our Thermos Koozies and Tuffo Blanket).
That cross-promotion aside...sprinkle these little purifying pebbles into your soap dish to add a little touch of nature and to bring the freshness of the outdoors into your home.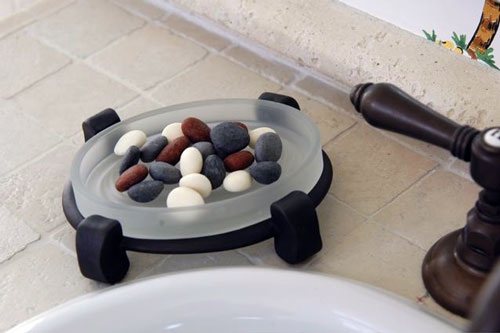 This product has been discontinued. Frown face!
Sorry, but this item is no longer available for purchase.
Burning Questions: You Ask, We Answer
Your questions that have been answered by the Vat19.com staff:
Sort by: Show Only:
Want to ask your own Burning Question?
Unfortunately, this product is not currently available for purchase. Therefore, we cannot accept any new burning questions. Sorry!