Sock Puppet Charades
Victory is in your hands.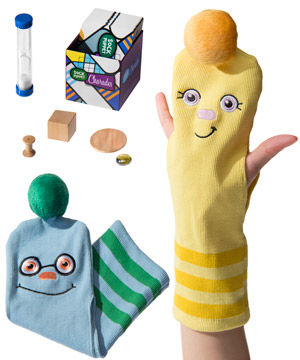 $24.99
This item has been discontinued.
You may also like:
$24.99

$18.99
Overview
Three words… first word… sounds like clock. Sock! Second word… two syllables… sounds like Muppet. Puppet! Sock puppet charades!

Let your hands do the talking and stuff your mitts into this hilarious hosiery game. Slip on the puppets and perform gestures representing actions, people, and things using the provided props.

Whether you're a stocking starlet or a seasoned thumb thespian, the whole family is sure to enjoy the creative silliness of Sock Puppet Charades!
Features & specs
Like charades, but you can only use your hands
Set includes two sock puppets, one 60-second sand timer, a bag of props (one blue cloth, a circular piece, a large square, a small square, a glass piece, a dowel, a small spool, and a yellow pipe cleaner), one score pad, and 200 Charades cards
Recommended ages: 8+
Talk to the hand
You've got to hand it to the makers of Sock Puppet Charades: they've successfully made a classic party game feel new again. Slip a sock on your palm, stick your fingers through the holes for arms, pick up a card, and steal the scene!
And the award for best hand-acting goes to...
You've never really realized how difficult acting can be until you've tried palm pantomiming.
You'll need to summon a special muse to get your acting up to snuff and the other players correctly guessing. When your performance leads another player to identify the action, you both get a point. The player with the most points after a few rounds earns a hearty round of applause and a well-deserved thumbs up of approval.

"You glove me! You really glove me!"
Pick up props
Improve your hand skit into a tour de force performance when you use your thumb and index finger to lift one of the included props. Transform the blue cloth into a parachute to make a stunning getaway or make it a magic carpet and go for the ride of your life.
Between the cloth, wooden shapes, glass bead, and pipe cleaner, you've got the tools to bring your imagination to life through the magic of acting!

Perform a masterpiece without saying a word.
Out of the box fun
The components of the game include two sleeveless sockpuppets, 200 charades cards, a 60-second sand timer, a score pad, and a bag of props.
The props include a blue cloth, a circular piece, a large square, a small square, a glass piece, a dowel, a small spool, and a yellow pipe cleaner. Feel free to add your own small props to the collection!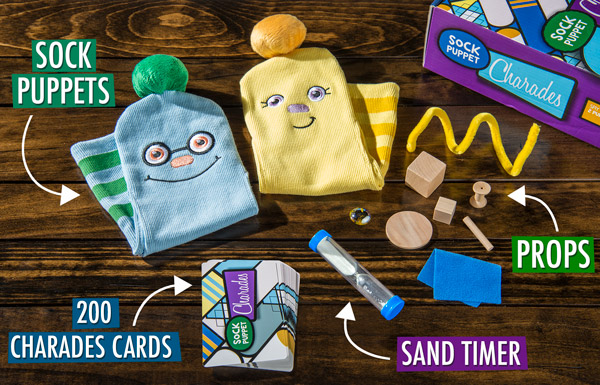 Ladies and gentlemen, the Sock Puppet Players!
Frequently Asked Questions
Question: Does it come with hands?
Answer: Sock Puppet Charades is strictly BYOH.
Question: Won't the socks smell?
Answer: Only if your acting stinks (or you put sweaty hands in them and never wash them).
This product has been discontinued. Frown face!
Sorry, but this item is no longer available for purchase.
Burning Questions: You Ask, We Answer
Your questions that have been answered by the Vat19.com staff:
Sort by: Show Only:
Want to ask your own Burning Question?
Unfortunately, this product is not currently available for purchase. Therefore, we cannot accept any new burning questions. Sorry!