Superhero Pint Glasses with Capes
Superman and Batman pint glasses with removable capes.
You may also like:

Overview
Despite their propensity to be sucked into jet engines, capes (aka cloaks, wraps, ponchos, or shawls) make everyone and everything more awesome.

Therefore, by adding a cape to these officially licensed Superman and Batman Pint Glasses, we have entered into a new plane of awesomeness.

Each 16-oz glass is made in the USA and features a durable polyester cape attached to a removable silicone strap. Currently available in Superman and Batman styles.

Although the glass is dishwasher safe, hand washing is recommended to extend the life and brightness of the imprint.
Features & specs
Capacity: 1 pint (16 ounces)
Made in the USA
Removable polyester capes
Officially licensed
Dishwasher safe, but hand washing recommended
Notes on this video
The printed designs of the Caped Pint Glasses have changed slightly since this awesome video was made.
Love our videos? Please subscribe to our YouTube channel:
Yeah. There's a cape on that glass. You got a problem with that, bro?
At first blush, adding a cape to a pint glass may seem silly, whimsical, and superfluous. And you'd be right. It is silly, whimsical, and superfluous. But it's also awesome. Deal with it. Now buy one. Heck, buy two.

Add a cape to a pint glass and you've got yourself awesome in a glass! Get it? Yeah...

For casual events, you can remove the cape
If you genetically engineered a cat that could talk, hopefully you also installed a mute button. You just never know when you'll need to shut up that chatty kitty! Similar thinking led to the removable cape. (Easier washing probably had something to do with it, too.)

The polyester cape attaches to your Superhero Pint Glass via its silicone band.
Collect both styles now!
Our Caped Pint Glasses are currently available in two officially licensed styles: Superman and Batman.
Get them both. Because as soon as one of your friends sees you enjoying a frosty beverage in a glass with a cape, their drink will suddenly taste like liquid fart. And the only remedy for liquid fart is a Caped Pint Glass. That's science, kid.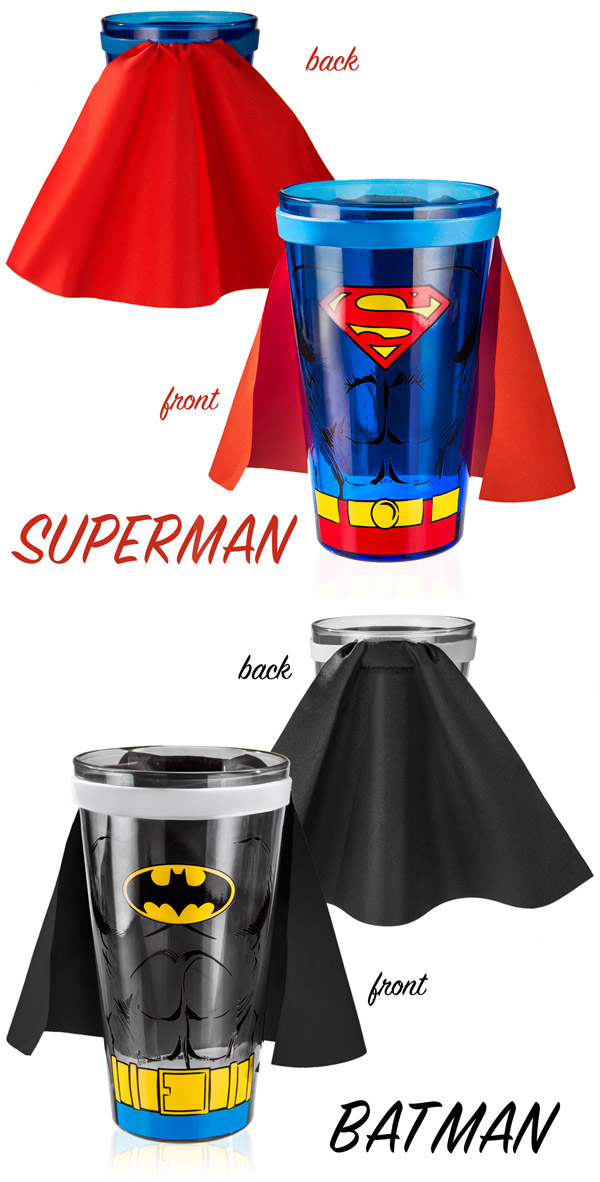 Caped Pint Glasses are currently available in Superman and Batman styles.

Where can I buy this awesomeness?
Burning Questions: You Ask, We Answer
Your questions that have been answered by the Vat19.com staff:
Sort by: Show Only:
Want to ask your own Burning Question?
This product is no longer available for purchase directly from Vat19. Therefore, we are no longer accepting new burning questions at this time. Sorry!