Balloon Dog Anatomy Puzzle
Make your own 3D dog skeleton.

Videos

The Balloon Dog Anatomy Puzzle is available in two sizes.

Watch video for: Balloon Dog Anatomy Puzzle
Overview
From the mind of artist Jason Freeny, the 26-piece Balloon Dog Anatomy Puzzle is man's creepy and cool new best friend. The snap-together skeleton and organs are a cinch to put together, even without a veterinarian degree. Once the puzzle is complete, enclose the skeleton in the clear plastic case and your new desk art is complete.

Who says a puzzle has to be a flat forest or seascape? Since the 3D Balloon Dog Anatomy Puzzle moves beyond the flat plane of a traditional puzzle, this macabre mutt will give your desktop some much needed flare.

And if you only have a little space to spare, try the mini breed! This tiny teacup iteration uses less real estate in your workspace while still catching the eye of your guests. It has all of the same functionality as the larger lurid Lassie (less assembly required) and every bit as ghastly.
Features & specs
Approx. dimensions (Large size): 10 1/4" x 8" x 3" (26.04 cm x 20.32 cm x 7.6 cm)
Approx. dimensions (Mini): 6" x 6" x 2.5" (15.2 cm x 15.2 cm x 6.4 cm)
26 piece puzzle (Regular), 10 piece puzzle (Mini)
8 piece plastic casing
Ages 8+
You may also like:
Love our videos? Please subscribe to our YouTube channel:
Show off your weird side
Some people like decorations that are cute and comforting while others prefer something a little more… unusual. The eye-catching Balloon Dog Anatomy Puzzle definitely resides in the latter camp.
The spooky skeleton exudes its own sense of ghoulish charm. The detailed organs will make you lean in for a closer look, while the haunting eye sockets will make you lean back out again. Think of it as a guard dog that protects you against normalcy.

The creepy side of cute.
So creepy, so cool
Artist Jason Freeny designed the Balloon Dog Anatomy Puzzle to showcase a uniquely weird perspective on playful objects, for which he's become known. It's like having a 3D art exhibit next to you while you work.
This desktop art piece will garner double takes from passersby and remind you that, underneath it all, life is always a little weird.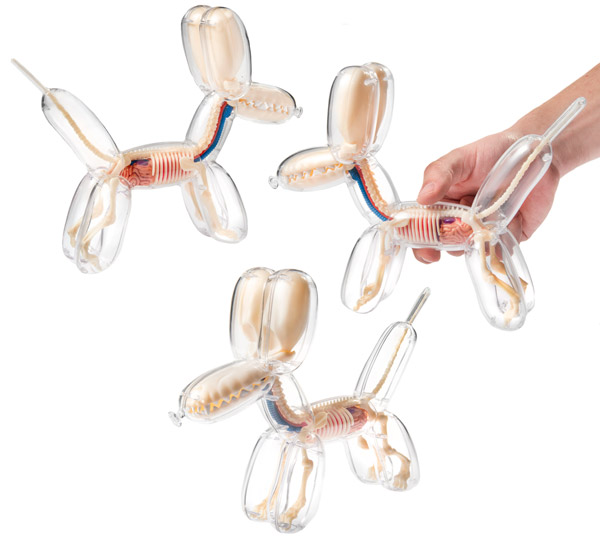 Play dead, boy. Good boy!
Cute but cadaverous
Add the word tiny to the list of charming things about this artful puzzle, at half the size of its creepy counterpart, the Mini Balloon Dog Anatomy Puzzle punches above its weight class in weird. Kudos to Jason Freeny for making this morbid mutt mini!

Smol Skeleton
Question: Is this hard to put together?
Answer: The Balloon Dog isn't a puzzle in the traditional sense; it's not designed to be a challenge to assemble. It's pretty obvious where the pieces go, so it's just a matter of snapping them together.
Question: How sturdy is the skeleton, once constructed?
Answer: If you drop it on the ground, the pieces themselves are unlikely to break but you may need to snap them back into place.
Question: Does it move?
Answer: No, that would make it a zombie. God help us if that ever happens.
Question: Will this scare my children?
Answer: Depends on if your children have a sense of humor or not.
Question: Is there any risk of choking on these pieces?
Answer: Yes, there are tiny pieces that, if swallowed, could be a choking hazard.
Where can I buy this awesomeness?
Burning Questions: You Ask, We Answer
Your questions that have been answered by the Vat19.com staff:
Sort by: Show Only:
Want to ask your own Burning Question?
This product is no longer available for purchase directly from Vat19. Therefore, we are no longer accepting new burning questions at this time. Sorry!
Please excuse the shameless cross promotions!