Deck of Black Playing Cards
Full deck of super sleek black-on-black playing cards.
Videos


Watch video for: Deck of Black Cards

Video: Black Playing Cards Demo Video
Overview
For a striking set of playing cards, look no further than our Black Playing Cards.

Each card features glossy, super-intense black ink printed on top of a semi-gloss black coating. This creates a card whose writing and design can shift from intense black to a bright white depending on its angle to light.

Each deck includes 52 cards and two jokers.
Features & specs
52 card deck + 2 jokers
Sleek black-on-black design
Standard poker size
Vat19 exclusive!
This item is a Vat19 exclusive!
You may also like:
Love our videos? Please subscribe to our YouTube channel:
A super-sleek deck of cards
We'll be straight up with you: we love these cards because of their looks. They're not jumbo, they're not see-through, and they won't file your taxes. But they look awesome. And that's enough.

The magic of our Black Playing Cards is in their simplicity: they just look cool.
Black-on-black looks goooood!
Check out the short demo video below to see how the Black Playing Cards appear depending on their angle to the light.
You can read them... but your cheatin' friends can't!
Serious card players won't have any problem using Black Playing Cards.
As long as the cards are facing you, they're fully legible to the naked eye (even if they don't catch the light). But from a steep angle (such as from the viewpoint of your scoundrel playing partners), they're like a black hole. So, they look great AND they prevent cheating. Double win!
Each deck contains a full 52 cards plus two jokers.

Each deck of Black Playing Cards includes 52 cards and two jokers.
We just love this cool design!
Black Playing Cards are made from thin PVC plastic, but are the same thickness and have the same hand feel as standard card stock playing cards.
The design is printed with a high-gloss super black ink that is darker than the card (for a rich deep black under certain lighting conditions), but that will also strongly reflect light and appear nearly white in other lighting conditions.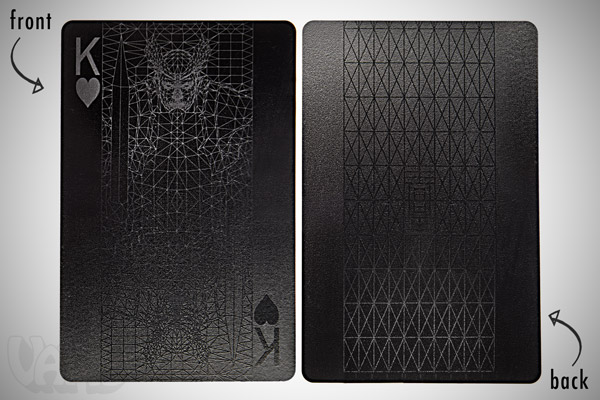 Black Playing Cards feature a glossy black ink on semi-gloss black card stock.
Burning Questions: You Ask, We Answer
Your questions that have been answered by the Vat19.com staff:
Sort by: Show Only:
Want to ask your own Burning Question?

First, please watch the

video

to the right. It explains the Burning Question feature and answers some common questions.

Now, if there is something that you need to know about this product that we've omitted, please send us an anonymous question and we promise to answer it within 1 business day.
Please excuse the shameless cross promotions!