Build Your Own Wooden Ballista Kit
Create your own model of the ancient Roman missile weapon.
You may also like:
Overview
Create a realistic and working replica of an ancient roman missile launcher with the DIY Ballista Kit.

The torsion spring technology invented thousands of years ago still works flawlessly in creating highly accurate shots over long distances. Fire the included ammunition (known as bolts) over 30 feet.

This high quality kit features laser-cut parts and full-color illustrated instructions to ensure a fun building experience. Ages 10+.
Features & specs
Dimensions (of completed Ballista): 8" x 6" x 6"
Fires more than 30 feet
Build time: approximately 2 hours (excluding glue dry time)
Laser-cut wooden parts
Requires only glue and scissors
Ages 10+ (adult supervision recommended under 12 years)
Love our videos? Please subscribe to our YouTube channel:
Build your own ancient Roman missile launcher
The DIY Ballista Kit allows you to create your very own Roman Ballista. This ancient missile weapon derives its power from torsion spring technology which allows large projectiles to be shot long distances with stunning accuracy.
This do-it-yourself kit includes all of the pieces necessary to create your own replica ballista. Despite being only eight inches long, it can easily fire its ammo over 30 feet.

Lay siege to thine enemies with this DIY replica of the ancient Roman ballista.

Excellent instructions make building a blast!
The Ballista Kit is made almost exclusively from laser-cut wood. This highly precise method of cutting ensures pieces fit together snugly and easily. Plus, full-color, detailed, and easy-to-follow instructions guarantee a frustration-free building experience.
The approximate build time for the kit is under two hours. However, a few steps require allowing glue to dry, so you may want to allow yourself a few evenings for complete construction.
In addition to the materials provided, you will only need a pair of scissors and wood glue to build your own awesome replica of an ancient missile launcher / sniper rifle.

With the help of wood glue and a pair of scissors, you can construct your Ballista in a matter of hours.

Highly accurate replica shoots over 30 feet
Ballistae are known for being acutely accurate. Ancient accounts reference ballista being able to take out individual soldiers. Full-size ballistae had a maximum range of over 500 yards (460 meters). That's intense!
The replica ballista you'll be creating can shoot its ammo (3 wooden missiles are included) over 30 feet.

Full-size Ballistae can shoot over 500 yards. Your miniature replica will shoot over 30 feet.

Easily adjust the trajectory of your shots
While catapults and trebuchets can shoot heavier objects, modifying the course of your projectile is a bit more laborious. Not so with this ballista! Simply raise or lower the upper frame (thanks to the clever pivot axle) to line up your shot and then pull the trigger release to fire.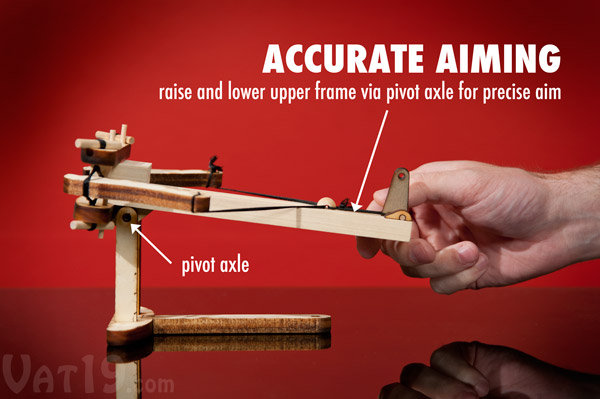 Simply raise or lower the upper frame to adjust the trajectory of your shots.

The glory that is the Ballista, from multiple angles!
Once complete, your Ballista will shoot far and straight and appear menacing to all who gaze upon her. Enjoy!

Multiple views of your majestic Ballista.

Frequently Asked Questions
Question: Why do some pieces have dark edges?
Answer: This is due to the laser-cutting process. We think it looks cool. If it bothers you, you could always stain the wood prior to construction.
Question: How far does it shoot?
Answer: The Ballista Kit will shoot its provided ammunition over 30 feet.
Question: Can I use ______ as ammo in the Ballista?
Answer: We can only officially recommend using the included "bolts". That being said, we are not the Ballista police. We're not going to kick down the door to your house if you tried to use, oh, I don't know, Spitballs, BuckyBalls, BuckyCubes, Jelly Beans, or AAA batteries — actually, batteries could be dangerous. Don't use those. Point being, have fun and be safe. Now, buy, buy, buy!
Sorry! We're sold out until February 24.
Burning Questions: You Ask, We Answer
Your questions that have been answered by the Vat19.com staff:
Sort by: Show Only:
Want to ask your own Burning Question?

First, please watch the

video

to the right. It explains the Burning Question feature and answers some common questions.

Now, if there is something that you need to know about this product that we've omitted, please send us an anonymous question and we promise to answer it within 1 business day.