Fortune Cookie Soap
100% natural soaps with an included fortune.
$19.99
This item has been discontinued.
Overview
Although tempting, do not eat your Fortune Cookie Soap. These delicious-looking, hand-made soaps are sure to wash away your bad luck. Each hand-folded "cookie" includes a unique fortune.

Fortune Cookie Soap is free of any harmful chemicals and is made with 100% vegetable oils. We still don't recommend eating them, though.

Each takeout container includes six soaps: two each of Oatmeal Cookie, Keep It Clean, and Sublime.
Features & specs
Includes 6 fortune cookie soaps
Fortune is included inside each soap
Made with all natural ingredients
Container dimensions: 4" tall x 3" wide x 4" deep
Individual soap dimensions: 3" across at widest point
You may also like:
Fortune Cookie Soaps are an adorable gift and useful, too!
In addition to providing useful advice such as, "If you feel that no one is noticing you, skip a few baths", Fortune Cookie Soaps will also clean your dirty little hands. Made from safe, chemical-free ingredients, Fortune Cookie Soaps are sure to delight the senses. Each cookie has a distinct aroma, such as an oatmeal cookie, combined with a subtle hint of freshness.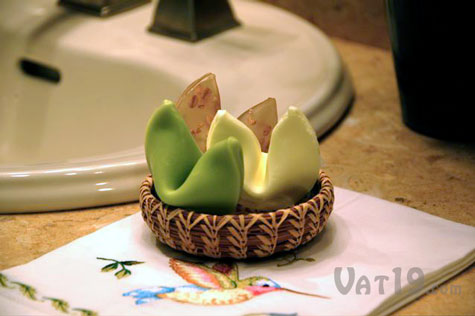 Add a distinctive flair to your bathroom decor with our Fortune Cookie Soap.
Each set includes six Fortune Cookie Soaps
The Chinese-style takeout container includes six hand-folded fortune cookie soaps. Each set includes two each of the following cookie styles: Oatmeal Cookie, Keep It Clean, and Sublime.
Yes, real fortunes are included inside of each soap!

Each set of Fortune Cookie Soaps includes two each of the styles pictured above.
No, the fortunes won't get soggy
You don't have to break open the Fortune Cookie Soaps to reveal their fortune. You can gently remove the fortunes prior to using them.
This product has been discontinued. Frown face!
Sorry, but this item is no longer available for purchase.
Burning Questions: You Ask, We Answer
Your questions that have been answered by the Vat19.com staff:
Sort by: Show Only:
Want to ask your own Burning Question?
Unfortunately, this product is not currently available for purchase. Therefore, we cannot accept any new burning questions. Sorry!
Please excuse the shameless cross promotions!