Gummy Pizza
It's delivery and it's gummy.
You may also like:
Overview
Grab a slice of sugary perfection with Gummy Pizza, an eight-inch gummy pizza that looks like the real thing. Every ingredient that makes up this sweet pie is a unique gummy flavor, starting with the crust (orange) and cheese (strawberry-banana) all the way to the toppings: pepperoni (cherry), green peppers (apple), and yellow peppers (citrus). Now, who's going to be the one that gets the last slice?

Speaking of slices, Gummy Pizza in a Box is also available as an equally awesome and nearly equally sized individual Pizza Slice (for when you've got the craving for a gummy pie and you want that wedge).

For those who prefer a spicy pizza, try pairing it with Spicy Gummy Peppers.

Please Note: The Jumbo Slice (14 oz) is nearly the same size as the Full Pie (16 oz).
Features & specs
Fully gummy confection shaped like a pizza
Flavors: cherry, orange, strawberry-banana, apple, and citrus
Full pizza size (approx.): 8" diameter (20.3 cm)
Pizza slice size dimensions (approx.): 10" x 9" (25.4 cm x 22.8 cm)
Gummy Slice Net Wt.: 14 oz (396.9 g)
Gummy Round Pizza Net Wt.: 16 oz (453.6 g)
Both items contain approximately 1,200 Calories
Fat-free, gluten-free
Handmade in the USA
Notes on this video
Please note that Gummy Pizza is no longer shipped in a cardboard pizza box due to issues with damage in transit.
Just like every good pizza commercial suggests, you need to pair that za' with some soda. Click the "Ultimate Meal Deal" option to add two gummy colas to your order! *There is NOT a discount with this option, it is just a fun suggestion to get the party started.
Love our videos? Please subscribe to our YouTube channel:
Mouthwatering gummy pizza!
What happens when one of the most popular foods on the planet collides with one of the most amazing types of candy? You get the incredible Gummy Pizza — an eight inch confectionery marvel! Or try a take-out Slice, which is just as awesome (and just about as big)!
The gummy pizza looks like a real za' straight from the oven, but the taste is a gummy explosion with fruity flavors in every bite.

Who will get the last slice?
Yep, that's all gummy!
If a local food blog were to write about this gummy pizza, it might sound a little something like this:
"The pizza was meticulously crafted with perfectly melted cheese, consistently sliced pepperoni, and a generous helping of green and red peppers. Even the crust was a delicious treat at the end of each marvelous slice of pie. Oh, and it tasted like a mouthful of gummy bears. 5 stars!"

Hey! Now that's a tasty gummy!
Any way you slice it
Don't feel like you could polish off a whole pie? No problem! Opt for a slice of Gummy Pizza instead. This triangular treat is actually almost the same size and has the same flavors as the round pizza, so you'll probably still want to share the slice or savor it over a few different sessions. This take-out slice is another awesome way to devour delicious gummy pizza!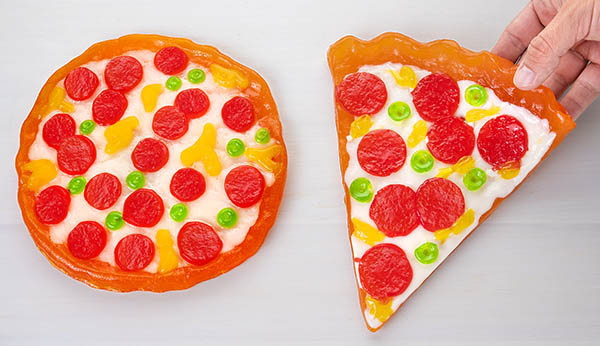 Available in whole pie or slice!
Frequently Asked Questions
Question: Does the pizza taste like actual pizza?
Answer: No. While it looks like real pizza the flavors are: crust (orange), cheese (strawberry-banana), pepperoni (cherry), green peppers (green apple), and yellow peppers (citrus). Sorry, no marinara here.
Question: Which is bigger: the whole pizza or the pizza slice?
Answer: The Gummy Pizza and Gummy Slice both weigh nearly the same and contain about the same amount of Calories. Aside from the distribution of flavors (the Gummy Slice has bigger pepperoni slices), they're identical ingredients crafted in two different delicious styles, so which one you choose comes down to your preference.
Question: What are the ingredients?
Answer: Corn syrup, sugar, gelatin, citric acid, sorbitol, natural & artificial flavors, FD&C Red #40, Blue #1, Yellow #5, Yellow #6, titanium dioxide, vegetable oil, carnauba wax, canola oil, lecithin from soybeans, water, rosemary extract. Contains soy.
Can't live without it?
Smash that 'Add to Cart' button!

Jumbo Slice
Ingredients: Corn syrup (from corn); sugar (from beets); water; gelatin; propylene glycol; vegetable glycerin; citric acid; natural and artificial flavors; pectin (derived from fruit); vegetable oil (coconut canola); carnauba leaf wax (to prevent sticking); FD&C red #40; blue #1; yellow #5; yellow #6; titanium dioxide; canola oil; lecithin (from soybeans); rosemary extract
Allergen Statement: Contains Soy.
Halal: No See all Halal
Gluten Free: Yes ✔ See all Gluten Free
Kosher: No See all Kosher
Nutrition Facts
Serving Size (about 40 g)
Serving Per Container 8
Amount Per Serving
Calories 120
Calories from Fat 0
% Daily Value*
Total Fat 0g
0%
Saturated Fat 0g
0%
Trans Fat 0g
Cholesterol 0mg
0%
Sodium 10mg
0%
Total Carbohydrate 29g
10%
Dietary Fiber 0g
0%
Total Sugars 19g

Includes 17g added sugars

Protein 2g
Burning Questions: You Ask, We Answer
Your questions that have been answered by the Vat19.com staff:
Sort by: Show Only:
Want to ask your own Burning Question?

First, please watch the

video

to the right. It explains the Burning Question feature and answers some common questions.

Now, if there is something that you need to know about this product that we've omitted, please send us an anonymous question and we promise to answer it within 1 business day.