KiiPix Smartphone Printer
Instant photo printer for your smartphone.
You may also like:
Overview
Taking and sharing pics has never been easier, but actually taking a picture in the moment that you can hold in your hands moments later (and post to your Stories) is still a challenge.

KiiPix makes it possible to print photos from your phone onto Fuji Instax film without wires, pairing, or any electricity at all. The low tech device exposes your smartphone pic to film and prints it out using a simple hand crank.

This genius use of old-school technology with state-of-the-art phones makes printing photos easy and fun.

KiiPix does not come with any film. Our Fuji Instax Film (sold separately) features 20 total exposures (2 packs of 10 pictures each).
Features & specs
Photo printer for smartphones
Prints to Fuji Instax Mini film (1.8" x 2.4" [4.6 cm x 6.2 cm] image size on 2.1" x 3.4" (5.4 cm x 8.6 cm) film)
Use any photo you've already taken, that's been shared with you, or that you've found on the Web
No batteries, Bluetooth, or WiFi required
Compatible with iOS, Android, and anything with a screen
Folds closed when not in use
Approximate dimensions: 6" x 5 1/4" x 2.5" (15.5 cm x 13.5 cm x 6.3 cm)
Love our videos? Please subscribe to our YouTube channel:
Print phone pics promptly
In an age of constant connectivity, we've gained so much that it's hard to notice the little things that have gone out of fashion, like instant cameras.
KiiPix makes it easy to instantly print photos without carrying around a special camera. Just use the smartphone you already own to snap a pic and set it on top of KiiPix. Press the printer's shutter button, and roll out your new memento instantly!
0% charge
KiiPix never needs to be plugged into the wall, and it never needs to be plugged into your phone.
Using the technology of a tiny darkroom, the printer uses a spring-loaded shutter to expose your phone's screen to the Instax film in the body, and you manually roll out the developed print. Since everything is mechanical, you never have a low battery because there's no battery at all—just a printer that always works!
Portable printer
KiiPix is already compact when in use, but when it's time to stow it away for storage or to take with you, simply fold in the arms to protect the shutter and make the unit even smaller.
Convenient cartridge
Since KiiPix uses standard Fuji Instax Mini film, reloading is a breeze. Simply open the film door, drop in a 10-print cartridge, and close it up! A counter on the body of the printer keeps track of how many prints you have remaining so you can keep creating memories while KiiPix keeps track.
Pocket-sized pics
Each package of Instax Mini film (sold separately) includes two cartridges of film with 10 prints each for a total of twenty prints per pack. The prints are about 2" by 3 1/2" with an image size of 1.8" x 2.4"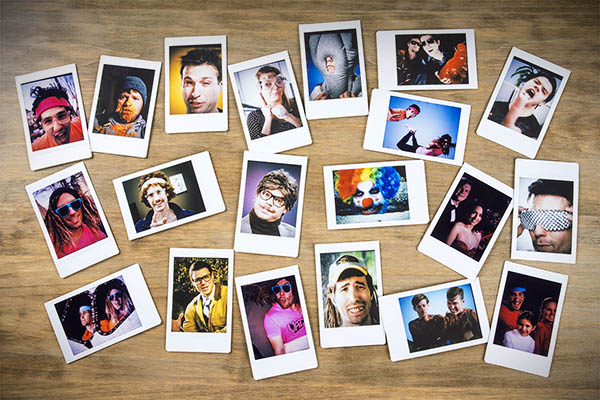 Making a GIF in real life using the Kii Pix
Jon and Joey used the KiiPix to create a real-life GIF! Well, technically, they created a zoetrope to produce the illusion of motion. Check it out!
Frequently Asked Questions
Question: Where can I get more film?
Answer: At Vat19, of course! Scroll to the top of the page and add it to your cart!
Question: Will it fit my particular phone?
Answer: KiiPix is made to accommodate just about any phone on the market, although some cropping will occur, especially if you have a really gigantic screen.
Where can I buy this awesomeness?
Burning Questions: You Ask, We Answer
Your questions that have been answered by the Vat19.com staff:
Sort by: Show Only:
Want to ask your own Burning Question?
This product is no longer available for purchase directly from Vat19. Therefore, we are no longer accepting new burning questions at this time. Sorry!