LEGO® KeyLight Keychain
Official LEGO® man keychain with light-up feet.
You may also like:
Overview
Unless you own a LEGOr KeyLight Keychain, you are living in the minor leagues of keychain accessories. This official LEGOr keychain features two bright LEDs on the bottom of the minifigure's feet, replaceable (and included) batteries, a keyring, and general all-around LEGOr coolness.

Like classic LEGOr minifigures, the KeyLight Keychain features movable arms, hands, legs, and a twistable head. Designed for ages 5+. Available in red torso or blue torso.
Features & specs
Dimensions: 2.75" tall (excluding chain) x 1.375" x 0.75"
2 bright LEDs (one per foot)
Arms, legs, hands, and head are movable
Batteries are included (2 x CR2025) and replaceable
Available in two colors
Ages 5+
Love our videos? Please subscribe to our YouTube channel:
Perfect excuse to carry a LEGO® wherever you go
If a friend, co-worker, acquaintance, or passer-by gives you that you're-too-old-for-LEGOs look, simply shine the light in their face and wait for them to beg to hold your awesome keychain light.

Simply press and hold the LEGO® logo to illuminate the bright LEDs in the feet.
Illuminate dark locks, eliminate helpless fumbling
Having a flashlight-like device on your keychain is quite handy. Most keychain lights, however, are boring. Amp up the awesomeness of your keys with the LEGO® KeyLight Keychain.

Opening doors at night can be tricky. Use the LEGO® KeyLight Keychain
to shed some light on the problem.
Pose this keychain like any LEGO® minifigure
You can bend its legs, rotate its arms and hands, and even twist its head 360 degrees. It may not interface with your iLifestyle, but it's LEGO®, which means it's awesome.
Shine light in two directions. The bottom of each of the LEGO® man's feet contains an LED, making it easy to shine light in two directions simultaneously.

Like regular LEGO® minifigures, the KeyLight Keychain features
a twisting head as well as rotating arms, hands, and legs.
Batteries included, replaceable
The LEGO® KeyLight Keychain includes batteries. However, should the two CR2025 watch batteries die, you can pick up replacements at most any grocery, convenience, or electronics store.
The battery compartment is easily accessed with an eyeglass screwdriver or...gee, I don't know...a keychain multitool like the KeyTool (also sold at Vat19.com).

Because you already own a KeyTool MultiTool (also conveniently sold by Vat19.com),
you can quickly access the battery compartment of the LEGO® KeyLight Keychain.
Available in two styles
The LEGO® KeyLight Keychain is available in two styles: red body with blue arms or blue body with red arms. Both are equally awesome. You should buy both.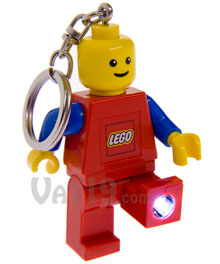 Where can I buy this awesomeness?
Burning Questions: You Ask, We Answer
Your questions that have been answered by the Vat19.com staff:
Sort by: Show Only:
Want to ask your own Burning Question?
This product is no longer available for purchase directly from Vat19. Therefore, we are no longer accepting new burning questions at this time. Sorry!