Oh Snap!
Remove pieces without causing the bar to snap forward.
Videos

Watch video for: Oh Snap!
Overview
Add tension to your game night… not the awkward kind from family political discussions, but the fun kind you get from playing Oh Snap!

The unique game board features a spring-loaded crossbar that's kept in place by rows of tightly-packed wooden discs. Each turn is full of anticipation, as you must choose one of these pressure-packed pieces to remove. Some can be safely plucked without consequence, giving you precious points, and some will cause the bar to snap forward, costing you potential victory.

The surprise and suspense of each turn make Oh Snap! a fun addition to your family game night.
Features & specs
Remove tightly packed pieces without moving crossbar
Includes: game board with wood bar attached to spring rod, 66 game pieces in three different sizes, and drawstring canvas bag
2-6 players
Ages 8+
Approx. dimensions: 8" x 13" x 1.5" (20.32 cm x 33.02 cm x 3.81 cm)
You may also like:
Love our videos? Please subscribe to our YouTube channel:
Under pressure
Oh Snap! is a game of pressure-packed pieces and pressure-packed decisions. Looking over the various sizes of circular pieces, it's hard to determine which ones are linchpins and which are expendable. The smallest pieces are usually easier to pluck but are worth less points. Picking up a large piece is a gutsy move but can pay dividends... if you can pull it off.
Choosing the correct disc each turn involves a little strategy, a little guesswork, and a lot of anticipation—the perfect recipe for a fun game night.
Choose wisely
To set up the board, pull back the spring loaded crossbar and load the board with the wooden discs. The bar continually pushes on the pieces, forming an intricate network of pressure distribution. If you remove a piece that affects that pressure distribution, the bar will snap ahead to claim more space, and you must discard the piece without earning points.
If you successfully extract a piece that doesn't move the bar, you keep the piece and add its point value to your total. Play until there are no pieces remaining and see who racked up the most points.

Playing is a snap.
Snap it up
The Oh Snap! set includes the wooden gameboard and 66 wooden pieces. The pieces are divided evenly into three groups by color and size: red (worth 5 points), yellow (10 points), and blue (15 points). These pieces fit into the cloth carrying sack, which ensures you don't lose any pieces during travel or storage.
Pick up the uniquely simple Oh Snap! and let the suspense commence!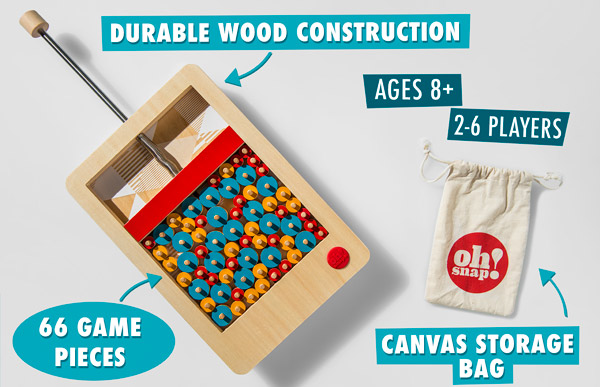 Each color of piece has a different point value.
Frequently Asked Questions
Question: Does it hurt your finger when the bar snaps?
Answer: The bar in Oh Snap! would only hit your finger if you leave it in the playing arena instead of grabbing a piece up and out. Even then, it doesn't generate enough force to cause pain. Bottom line: no, it won't hurt you.
Question: Is there a specific order to the pieces?
Answer: You can load in the pieces however you like. Dropping them in randomly is the simplest.
Where can I buy this awesomeness?
Burning Questions: You Ask, We Answer
Your questions that have been answered by the Vat19.com staff:
Sort by: Show Only:
Want to ask your own Burning Question?
This product is no longer available for purchase directly from Vat19. Therefore, we are no longer accepting new burning questions at this time. Sorry!
Please excuse the shameless cross promotions!