Pepper-laced Lemonade
Cool, refreshing lemonade with hot habanero flavor.
You may also like:

Overview
Just because you want to beat the heat with a refreshing beverage doesn't mean you have to sacrifice your infatuation with hot flavors.

Pepper-laced Lemonade is a hot take on an old favorite drink. Each glass contains the sour-sweet combination you expect with an unexpected picante kick. The real habanero powder added to the mix doesn't overwhelm the lemonade taste but enhances the complexity of the drink's flavor.

For an exciting summertime treat you can enjoy any time, Pepper-laced Lemonade is a sweet drink that burns so good.
Features & specs
Powdered mix for lemonade with added spice
Made with real habanero powder
Spicy, sweet, and delicious
Comes in a resealable canister
Each canister makes 8 servings
Net wt.: 8 oz (225g)
Made in the USA
The spice is nice
Some things are spice-laden to test the fortitude of will and push the eater to very edge of their limits. Pepper-laced lemonade is not one of those things. The delicious sweet and tart lemonade has just a hint of habanero added to transform the familiarly comforting refreshment into a new and exciting beverage. Sour, sweet, and heat combine to create a devilishly delicious drink.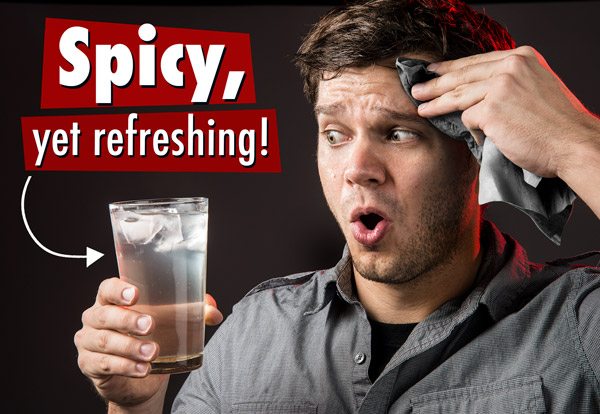 It burns so good.
Sweet heat
When it comes to hot peppers, there's no substitute for the real thing. Each canister of Pepper-laced Lemonade powdered drink mix contains real ground habanero powder to impart both the spiciness and distinctive peppery flavor of the chili. It still tastes like great mouth-watering lemonade, but it's been infused with the Mesoamerican kick of a chili pepper.

Hot hot sweet.
Frequently Asked Questions
Question: Is it "spicy", spicy, or spicy-spicy?
Answer: While it's hard to categorize a subjective sensation, you'll definitely notice the heat and flavor of habanero without getting knocked down for the count.
Question: What are the ingredient deets?
Answer: Pepper-laced lemonade contains: Sugar, citric acid, maltodextrin, tricalcium phosphate, natural flavor, and habanero powder. May contain trace amounts of milk, coconut oil, wheat, soy, tree nut, and peanut.
This product has been discontinued. Frown face!
Sorry, but this item is no longer available for purchase.
Burning Questions: You Ask, We Answer
Your questions that have been answered by the Vat19.com staff:
Sort by: Show Only:
Want to ask your own Burning Question?
Unfortunately, this product is not currently available for purchase. Therefore, we cannot accept any new burning questions. Sorry!