Stinger Pops
Trio of hard candy suckers made with some of the world's hottest peppers.
Videos


Watch video for: Stinger Pops

Video: Peep This #1: Stinger Pops
$11.99
This item has been discontinued.
Overview
Stinger Pops are hard candy suckers so spicy that they taste like the surface of the sun. Each of the three lollipops is made with real bits of the hottest peppers in the world.

The curated collection (exclusively for Vat19!) features one sucker flavored with Ghost Pepper, one sucker flavored with Trinidad Scorpion, and one sucker flavored with the infamous Carolina Reaper. And when we say flavored with, we mean exactly that. This isn't some wimpy candy with a single drop of added spice "essence". Each Stinger Pop contains highly visible chunks of three of the hottest peppers in the world.

So gird up your loins and take a lick of one of the hottest candies you'll ever taste!
Features & specs
3 different hard-candy lollipops
Each has a unique flavor of either Ghost Pepper, Trinidad Scorpion, or Carolina Reaper peppers
Ghost Pepper: 1 million Scoville Heat Units (SHU)
Trinidad Scorpion: 1.4 million SHU
Carolina Reaper: 2.2 million SHU
EXTREMELY and RIDICULOUSLY spicy!
Made in the USA
You may also like:
Love our videos? Please subscribe to our YouTube channel:
Mouth Magma
There's no hype in saying these lollipops are hot. It's an objective fact. They're not just the hottest things you'll ever taste, they're practically the hottest things you can taste.
In 2007, the Ghost Pepper was rated the hottest pepper in the world. But it was overtaken and the reigning champion for spiciest thing in the world became... the Trinidad Scorpion. Then an entrepreneurial botanist decided to create an even hotter pepper. He called it the Carolina Reaper.
Stinger Pops give you the opportunity to sample all three of these world champs in one lollipop set. Holy cow.

There are no words to convey just how hot this is.
Made with Real Blazes
How do you make the world's hottest candy taste like the world's hottest peppers? You use real pieces of the world's hottest peppers!
Some candy, like Tabasco chocolate, has some piquant notes with a nice chocolate flavor. Stinger Pops are a completely different animal. The candies are not just flavored like ultra-hot peppers. No, they're actual peppers—seeds, fruit, and all—encased in hard candy, so you experience the full heat of the pepper. Yikes.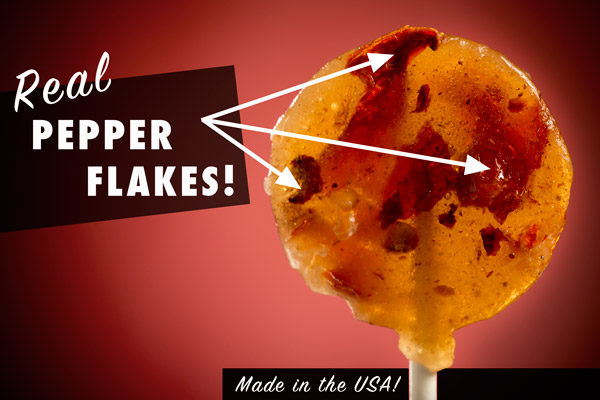 It's plain to see these are friggin' spicy.
Watch these two dudes eat them
Jon and Joey (spice lovers who can handle a lot of heat) take the Carolina Reaper Stinger Pops out for a test drive. It's both frightening and hilarious.
Available only at Vat19
It's not every day you get a chance to try a curated variety of the hottest peppers in the world. Unless, of course, you shop on our website every day.
This collection of three different Stinger Pops including Ghost Pepper, Trinidad Scorpion, and Carolina Reaper, is available exclusively through Vat19.
Curiously awesome, meet insanely spicy.

This is an exclusive spice party. Luckily, you're on the list.
Frequently Asked Questions
Question: How do these compare to other spicy candies?
Answer: There are plenty of other great candies that combine sweet with heat. While Stinger Pops aren't the spiciest lollipops in the world (that record belongs to the Toe of Satan), they are insanely hot.
Question: What flavor are these?
Answer: All three lollipops have no artificial flavors added. To us, they basically taste like rock candy (sweet) with the natural unique flavor of each pepper.
Question: Are all three suckers tri-flavored or is each one a different flavor?
Answer: Each lollipop in the set is uniquely flavored with a single kind of pepper. One of the suckers is flavored with Ghost Pepper, another is flavored with Trinidad Scorpion, and the third is flavored with Carolina Reaper.
Question: Which pepper is the hottest?
Answer: The hottest pepper in the set is the Carolina Reaper (a former world-record holder for spiciest pepper). It's 80% hotter than the still inferno-hot Trinidad Scorpion and more than twice as hot as the incredibly formidable Ghost Pepper.
This product has been discontinued. Frown face!
Sorry, but this item is no longer available for purchase.
Burning Questions: You Ask, We Answer
Your questions that have been answered by the Vat19.com staff:
Sort by: Show Only:
Want to ask your own Burning Question?
Unfortunately, this product is not currently available for purchase. Therefore, we cannot accept any new burning questions. Sorry!
Please excuse the shameless cross promotions!