Wine Soap Gift Box
Giftable assortment of wine-inspired soaps.

$37.50
This item has been discontinued.
Overview
Lather up with the Wine Soap Gift Box, a set of three bars of small-batch soap crafted in Napa Valley.

Each bar in the trio is inspired by a different variety of wine: rosé, cabernet sauvignon, and sauvignon blanc.

Complex aromas emanate from behind the paper wrapping of each soap, tantalizing you with the scent of real wine and other intoxicating aromatics. You might be tempted to swear in front of your mother just to get some of this delicious-smelling soap in your mouth, but remember—it's still soap!

Tied with ribbons and nestled in a unique wooden box, this collection of three luxurious bar soaps is gift-ready.
Features & specs
Three wine-inspired scents: berry rosé, cabernet soapignon, soapignon blanc
Made with real wine
Hand-poured in small batches
Made in Napa Valley (USA)
Includes wood gift box
Weight per bar: 6 oz. (170 g)
You may also like:
Robust bouquet with a smooth finish
The Wine Soap Gift Box contains three hand-poured hand soaps made from real wine. Each bar is infused with a specific vintage of vino to give it a fruity and earthy scent that's decadently luxurious.

Great for a bacchanal bath or a hedonistic hand wash.
What's your poison?
The Wine Soap collection includes a trio of unique bars of wine-infused soaps to offer three different scent experiences.
With zesty herbaceous notes, sauvignon blanc soap finishes clean with a vivid acidic note. Rosé soap has a floral yet savory body, and cabernet sauvignon has a deep and mature scent with a hint of woodiness.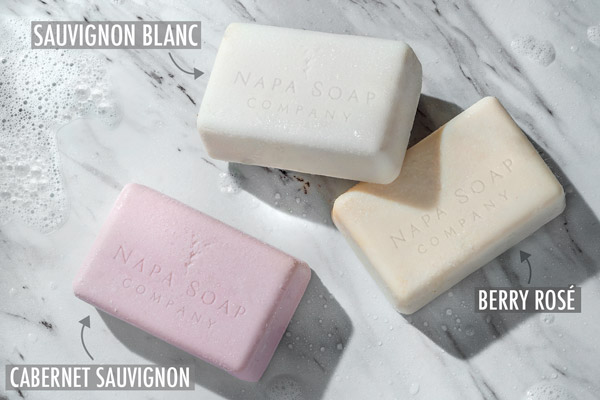 Three different delicious scents.
Gorgeously giftable
The Wine Soap Gift Box is made for gifting. Each individual soap is wrapped in a sealed wax paper covering that evokes their small batch hand-poured origins.
The individual soaps are laid together in a unique wooden box made from a sheet of flexible wood that heralds their extraordinary craftsmanship by appearing simultaneously assuringly familiar and uniquely intriguing.

The Gift Box delights the senses inside and out.
Question: Can you get drunk if you eat the soap?
Answer: They're made with real wine, but we're not foolish enough to eat the soap to find out. We strongly suggest you don't eat it, either.
Question: Is this made by the same people who created beer soap?
Answer: While the idea is similar to Beer Soap, this Wine Soap is crafted by a different group of soap makers.
This product has been discontinued. Frown face!
Sorry, but this item is no longer available for purchase.
Burning Questions: You Ask, We Answer
Your questions that have been answered by the Vat19.com staff:
Sort by: Show Only:
Want to ask your own Burning Question?
Unfortunately, this product is not currently available for purchase. Therefore, we cannot accept any new burning questions. Sorry!
Please excuse the shameless cross promotions!