Circuit Maze
The positively fun electric puzzle challenge.
Videos

Watch video for: Circuit Maze
Overview
Kick your noodle into high gear and solve the electric puzzle, Circuit Maze.

The logic puzzle requires you to place and arrange the tokens on the board to complete a circuit and light up the LED. Each game piece features a conductive strip of metal to move current through the game pieces and illuminate the colored bulbs. The charge is weak enough that it won't shock you, so feel free to arrange and orient the pieces as you try to solve the puzzle.

Circuit Maze includes 60 unique challenges ranging from beginner to expert difficulty. If you're totally stumped, solutions are printed on the reverse of each card.
Features & specs
Ages 8+
60 challenge cards
Dimensions (board): 7" x 7" x 1"
Batteries included
You may also like:
Love our videos? Please subscribe to our YouTube channel:
Confounding circuits
Circuit Maze is a puzzle game solved by arranging electrical components so that the battery's current reaches the light. You've got to power up your brain to place and orient the pieces in a way that lets the electricity flow.
'Lectric logic game
Like other puzzles from the same publisher, your maze is confined to a grid made for the game.
Choose one of the sixty challenge cards and set up the game grid to match the starting positions on the card. Then use your allowed game tokens (straight, corner, T, bridge, double-corner, blocker, switch, or beacon) and strategically place them on the board. You must choose where and how to place them, ensuring the power source has a metal contact that can carry the current to the beacons that need to be lit.
The logic game requires plenty of thought, but when you've got a bright idea of how to solve the puzzle, a light will illuminate!

A bright game for bright minds.
Powered puzzling
In Circuit Maze, you'll build a real circuit using actual electricity. The power block contains three AAA batteries and is tethered to the finish token with a shielded wire, completing half the circuit for you.
Your task is to place the remaining allowed tokens in sequence so that the metal strips embedded in them can carry the current and complete the circuit. Of course, that's easier said than done, so we'll leave the challenge up to you.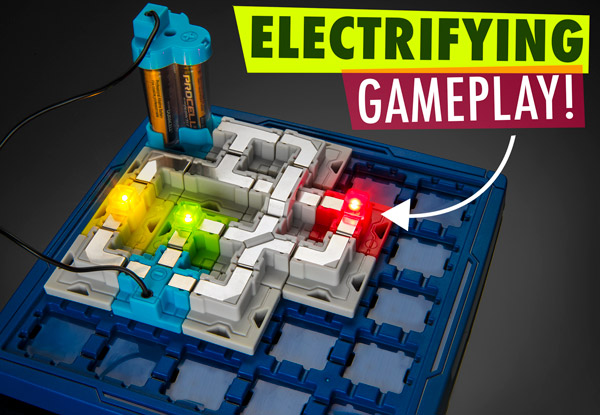 Talk about brain power.
Complete circuit kit
Circuit Maze contains a 5x5 game grid, 16 tokens (including a power token with 3 AAA batteries), and 60 unique challenge cards in four levels of difficulty. If you need help, solutions are printed on the back of each card.

It's a test fit to challenge Tesla himself.
Frequently Asked Questions
Question: Does it shock you?
Answer: No, Circuit Maze is designed to be perfectly safe to touch when used appropriately.
Question: Does it require batteries?
Answer: Yes, Circuit Maze requires 3 AAA batteries, which are included.
Where can I buy this awesomeness?
Burning Questions: You Ask, We Answer
Your questions that have been answered by the Vat19.com staff:
Sort by: Show Only:
Want to ask your own Burning Question?
This product is no longer available for purchase directly from Vat19. Therefore, we are no longer accepting new burning questions at this time. Sorry!
Please excuse the shameless cross promotions!