Original Mouth Mover Mask by Elope
Creepy animal masks that move when you talk!
Videos

Watch video for: Mouth Mover Mask

Mouth Mover Mask — Fox

Mouth Mover Mask — Pug
Overview
Get weird and wild with a Mouth Mover Mask! These eerily awesome masks actually move with your jaw, giving the illusion that the animal is talking… or howling… or barking… or what the fox says. The resulting image is guaranteed to unsettle and amuse your friends.

The flexible strap inside the mask keeps it secure while the soft cushion rests against your chin, so the animal's mouth moves when you talk. This lets you naturally create a very unnatural effect. The life-like faux fur provides the detail needed to complete the freaky facade.

Choose from four styles—pug dog, lion, wolf, and fox—to find the creepy creature that speaks to you.
Features & specs
Animal mask with movable mouth
Four available styles: pug dog, lion, wolf, and fox
Life-like faux fur
Black mesh around eyes for inside viewing
Designed for ages 14+
You may also like:
Love our videos? Please subscribe to our YouTube channel:
Speak, Fido!
No, you're not dreaming, and you're not hallucinating, either. That's really a talking dog. Mouth Mover Masks by Elope are hyper-realistic head coverings that transform you into an animal. And thanks to some ingenious engineering inside, they can talk! Each time you move your jaw inside the mask, the furry beast's mouth moves, too!
Fur real
One of the reasons these masks are so unsettlingly awesome is their gift of gab. Another is their detailed hairy hides.
Each species has a unique fur texture that best matches the way the animals' pelts really look, from the faux fur fox to the wooly wolf, to the low pile pug. So when you growl, snarl, bark, or recite a sonnet in a Mouth Mover Mask, expect to get petted!

I saw a werewolf drinking a piña colada at Trader Vic's, and his hair was perfect.
My, what big eyes you have!
When you put on a mask this cool and weird, people are going to stare. Luckily, you can stare back. As it happens, these wild beasts all have eyes set wider than a human's. That means there's a perfect spot just between the animal eyes and snouts for you to peer out and enjoy the reactions of the people you encounter.
Your viewing slits are concealed with a black mesh that helps you blend in and not ruin the effect of an upright canine carrying a conversation.

All the better to see you with, my dear.
Wear something wild
Mouth Mover Masks by Elope are currently available in four styles: wolf, lion, pug, and fox. Each has a unique fur, an articulated jaw, and an ability to wow friends and scare strangers. No matter which style you get your paws on, you'll have a howlin' good time.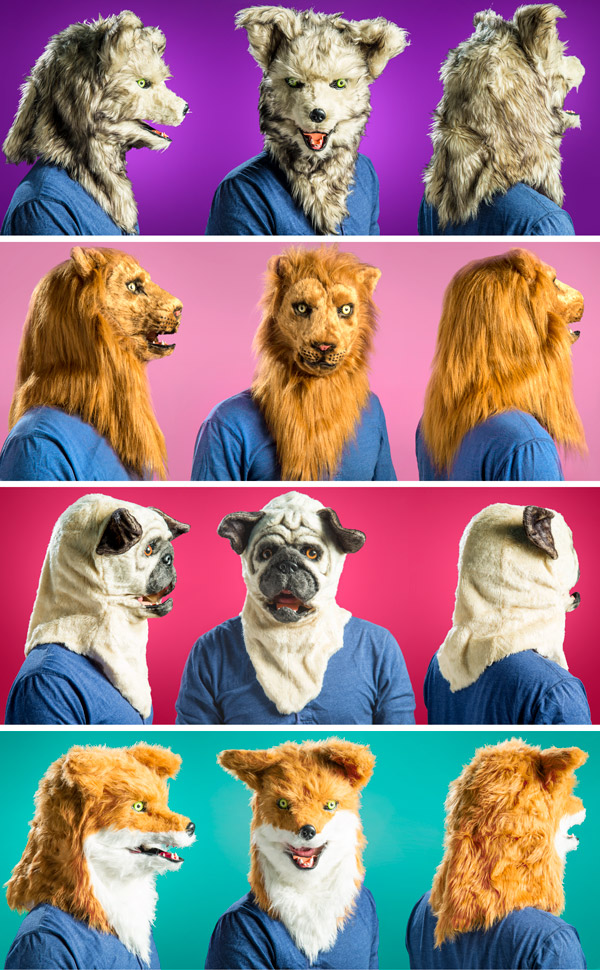 All of them are animalistically awesome.
Question: What age are these appropriate for?
Answer: Due to its size, the mask is designed to be worn by an adolescent or adult, but if you're younger and your head is big enough, go for it. A person of any age can enjoy the effect of a lifelike animal talking to them.
Question: How do you see out of the mask?
Answer: There's a pair of mesh screens for your human peepers that are set on the inside of the animals' eyes. From more than just a few feet away, you can't even tell it's there!
Can't live without it?
Smash that 'Add to Cart' button!
Burning Questions: You Ask, We Answer
Your questions that have been answered by the Vat19.com staff:
Sort by: Show Only:
Want to ask your own Burning Question?

First, please watch the

video

to the right. It explains the Burning Question feature and answers some common questions.

Now, if there is something that you need to know about this product that we've omitted, please send us an anonymous question and we promise to answer it within 1 business day.
Please excuse the shameless cross promotions!