Sånd Play Sand by Brookstone
Amazing, no-mess indoor kinetic play sand.
Videos

Watch video for: Sånd by Brookstone

0:47 - The design of the packaging has changed since this video was made. Everything else that is awesome about Sånd remains the same!

Sånd by Brookstone — Large Jar of Sånd
Overview
Sånd (rhymes with "wand") brings all the fun of beach sand indoors without any of the mess.

You can mold it, sculpt it, and write on it just like wet beach sand, but Sånd is completely dry and only sticks to itself — not your hands!

Sånd is an ingenious Swedish invention that is 98% regular sand and 2% polymer. But boy, oh boy, that two percent makes a huge difference!

Sånd simply has to be felt to be believed. It oozes when you squeeze it, yet you can sculpt it and it will hold its shape. And watching it flow is simply mesmerizing.

Sånd is non-toxic and never dries out. Ages 5 and up.
Features & specs
98% sand and 2% polymer
Jar includes 1.625 lbs (0.73 kg) of Sånd
Never dries out
Non-toxic
Såndbox does not include Sånd
Ages 5+
Dimensions (Jar): 6.75" x 3.5" diameter
Dimensions (Sandbox): 9.5" x 9.5" x 1.5"
You may also like:
Notes on this video
0:47 - The design of the packaging has changed since this video was made. Everything else that is awesome about Sånd remains the same!
Love our videos? Please subscribe to our YouTube channel:
Bring the beach indoors with Sånd!
Sand by Brookstone is the curiously awesome material that retains many of the properties of beach sand, but not any of the mess. Thus, Sånd is designed to be used indoors!
Like putty, it's fun to knead. Like wet sand, it can be molded and sculpted. And like Play-Doh, it's super-easy to clean-up. If this were the 80s, Sånd would be straight-up Space Age.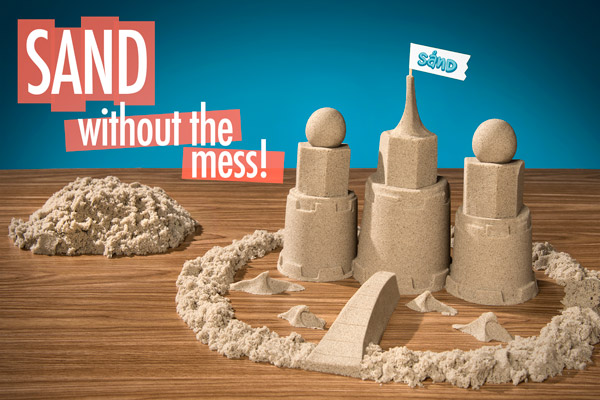 Bring the beach indoors with Sånd by Brookstone.
Once you feel it, you can't put it down
Sånd is one of those things that you simply must experience to believe. It's soft and pliable, yet it can be formed into complex structures and rigid shapes.
When squeezed, Sånd will flow like a thick milkshake and there's nothing quite as satisfying as simply massaging it with your hands.

Sånd has many of the properties of wet sand, yet it is completely dry and mess-free.
Unique material can also be cut
Here's a fun treat courtesy of Sånd: mold a fun shape and then slice through it. You'll thank us for it later.

Slicing through Sand by Brookstone is an immensely satisfying feeling. Enjoy!
Fast and easy clean-up
Sånd sticks to itself, but not your hands. It also doesn't leave any residue behind on surfaces. So clean-up is swift and effortless.

Sand is virtually mess-free because it sticks to itself and not your hands.
Try writing or doodling on Sånd
Compress a bit of Sand and it becomes an impromptu tablet. Draw, sketch, doodle, and write to your heart's content. Not surprisingly, the official Vat19.com pen is amazingly adept at this task.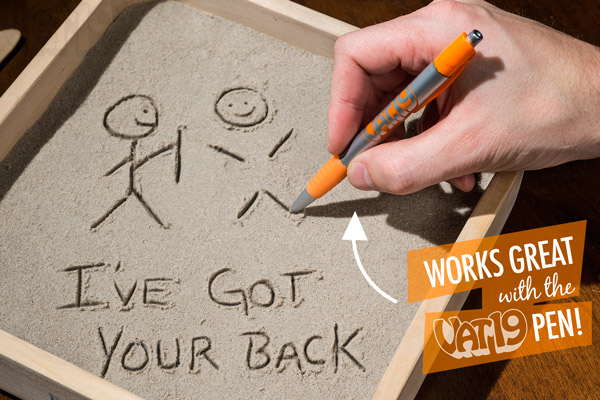 You can draw, sketch, write, and erase in compacted Sånd. And the best implement for doing so?
The Vat19 Pen, y'all!
A great office toy!
Keep a few jars of Sand on your desk as a creativity-inducing and stress-relieving Swiss Army Knife.
You can squeeze it like a stress ball, relax by watching it flow through your hands, and get inspired while using it as a building and sculpting material.

Sand is a perfect meditative stress reliever for the office.
Kids will love this stuff!
After we got the shot of Jamie's kids playing with Sånd, we couldn't get rid of them! Eventually, we had to turn off all the lights in the studio to get them to stop playing with this stuff. Kids absolutely love Sånd.

Sand is designed for ages 5 and up.
Colors!!!
Sånd is now available in two vibrant colors: blue and green. This begs the obvious question: "What color should I purchase? Original? Blue? Green?!" We think you know the answer: All three, son!
Please note that all colors are available in 1.625-pound jars. The only difference is the color!

You can't go wrong with any of the colors of Sånd.
Frequently Asked Questions
Question: How come you're selling a Brookstone product?
Answer: Because Sånd is awesome. We know Brookstone is a "rival" retailer, but they clearly know how to make some cool stuff. Plus, they kind of begged us to make a video, and flattery will get you very far in this world.
Question: Does it really never dry out?
Answer: Yep. Sånd will never dry out. It's pretty amazing stuff.
Question: Why do you sometimes spell it Sånd and sometimes Sand by Brookstone?
Answer: Search engine optimization. Hey, just keeping it real, y'all.
Question: Seriously, though, does it make a mess?
Answer: No! We played with it non-stop in the studio for about two weeks while taking our photos and shooting the video and it was super easy to clean up.
Question: How much would I need to cover my body in Sånd?
Answer: A lot. We would guess you'd need about 200 pounds (approximately 90 jars). Maybe stick to tabletop Sånd activities?
How does it compare to Vat19's other kinetic sands?
Great question! Check out the video below to watch us compare and contrast Sånd, Floof, Mad Mattr, and Glow in the Dark Sand.
Sorry! It's out of stock.
Burning Questions: You Ask, We Answer
Your questions that have been answered by the Vat19.com staff:
Sort by: Show Only:
Want to ask your own Burning Question?

First, please watch the

video

to the right. It explains the Burning Question feature and answers some common questions.

Now, if there is something that you need to know about this product that we've omitted, please send us an anonymous question and we promise to answer it within 1 business day.
Please excuse the shameless cross promotions!