3D Notebooks: Gadgets
Techie-themed tactile notebooks and pads.
You may also like:
Overview
When your writing seems a little flat, try jotting down some notes in three dimensional textured notepads and books.

These 3D Notebooks have covers that look and feel like the real gadget they represent. The notebooks come in four styles and three different sizes to get you working that next sketch or poem.

Choose from the smaller cassette tape and game controller, or go bigger with the camera and wire-bound RC Transmitter with telescoping antenna.
Features & specs
4 different styles (game controller, cassette tape, RC Transmitter, camera)
Material: PVC (cover) and paper (pages)
Cassette Tape and Game Controller: 2.8" x 4.9" (80 dotted pages)
Camera: 7" x 5" (64 blank pages)
RC Transmitter: 6.4" x 7.5" (54 blank pages)
RC Transmitter features a telescoping antenna
Old-school meets new school
Form and function collide beautifully in these stylish 3D Notebooks. Resembling various pieces of tech, each carefully designed notebook will certainly turn heads.
For on-the-go writing, jot down your notes on the dotted paper of the compact Cassette Tape and Game Controller notebooks. When your writing and sketching needs a little more creative space, draft your work on the blank pages of the Camera and RC Transmitter pads.

Lo-fi meets hi-fi with 3D Notebooks.
It's OK, you can judge these notebooks by their cover
Each 3D Notebook features a raised PVC cover that is a stylized representation of a different piece of technology. The three dimensional art not only gives the notebooks visual appeal, but creates a texture that feels good in the hand. Each cover is also roughly the size of the actual object it represents, adding to the realism.
The RC Transmitter notebook holds an extra surprise — a metal antenna telescopes just like it would on an actual remote control!

Unique cover designs invite your best work within.
Wireless writing
With four different styles of covers, 3D Notebooks make a great gift for just about anyone.
For that old-school feel, the Cassette Tape and Video Game Controller notebooks exude retro fun. The RC Transmitter, with its telescoping antenna, is perfect for a remote control hobbyist. And for the shutterbug in your life, the SLR-style Camera notebook is the picture perfect way to capture their journaling.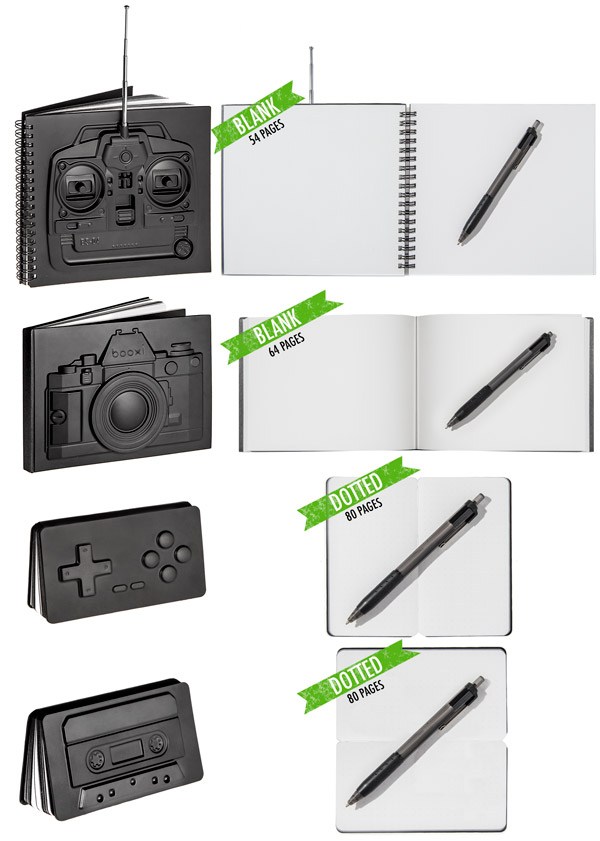 3D Notebooks push all the right buttons.
Question: Can you actually press the buttons on the notebooks?
Answer: While the buttons on the notebooks look very real, they are made from rigid PVC. It's fun to pretend though!
Question: Are there any other options besides these four?
Answer: There is a separate series called 3D Notebooks - Armed. Check em' out!
This product has been discontinued. Frown face!
Sorry, but this item is no longer available for purchase.
Burning Questions: You Ask, We Answer
Your questions that have been answered by the Vat19.com staff:
Sort by: Show Only:
Want to ask your own Burning Question?
Unfortunately, this product is not currently available for purchase. Therefore, we cannot accept any new burning questions. Sorry!