Burn or Bliss Chocolate Challenge
Hellishly hot chocolate roulette challenge.
You may also like:
Overview
Each set of Burn or Bliss contains twelve identical-looking pieces of chocolate. The catch is, seven of them are pure, delicious milk chocolate, and five chocolate pieces have been spiked with a super-spicy chili pepper extract.

So how can you tell if you're going to be savoring the sweet taste of chocolate or licking the coals of Beelzebub's brazier? They say the devil is in the details, but since the two kinds of chocolate look the exact same, you're just going to have to take a bite!

Challenge a friend to a game of spicy roulette and see who gets burned.

New! Red Candy Melts: This additional color allows for more fun and interactive challenges with friends!

Warning! These chocolates are not for those sensitive to spicy foods and should be kept out of reach of small children and pets.
Features & specs
Set of twelve chocolate pieces
Gamble your fate on plain milk chocolate or chocolate made with incredibly hot chili extract
Chili extract is dangerously hot! (9 million Scoville Heat Units)
Made in USA
Cold weather note: Chocolate bloom (a whitish coating on the surface) is common and sometimes unavoidable. They are still perfectly safe to eat!
This item is a Vat19 exclusive!
Love our videos? Please subscribe to our YouTube channel:
Gourmet gambling
Go ahead and grab a square of delicious milk chocolate from the Burn or Bliss package. Chances are, you'll enjoy a velvety texture, creamy cocoa flavor, and sweet finish. But you might also end up biting into one of the hottest things you've ever put in your mouth. That's because every set of twelve chocolates contains five spicy look-alikes, each adulterated with an incredibly hot nine million SHU chili extract.
The only way to tell the difference between nice and spice is to take a chance and take a bite.
Set of sweet or spicy*
American-made Burn or Bliss is a chocolate and chili challenge with risk baked right into the confection.
On the surface, you know exactly what you're going to get: twelve milk chocolates, seven of which are perfectly normal, tasty treats, and five of which are infused with an inferno of heat. What you don't know is which squares are spicy and which are sweet, since the pieces all look the exact same.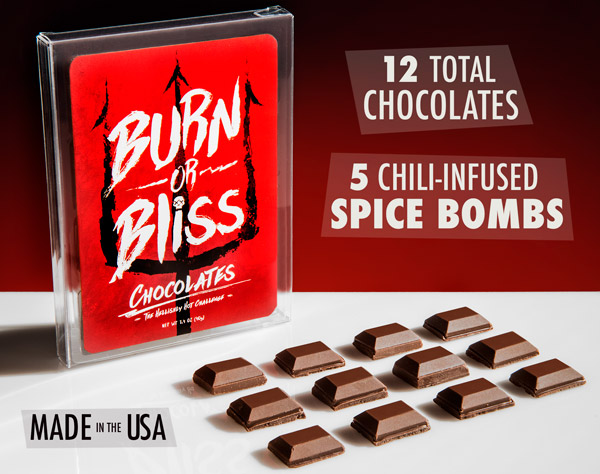 *Read: swelteringly stinging spice.
Heavy-hitting heat
When it comes to spice, there are varying levels of heat ranging from mild sauce to bear mace. This chocolate assortment straddles the extremes.
Seven pieces have no spice at all, and five squares have a chili extract that throws big league heat! Measuring in at nine million Scoville Heat Units, this chili extract has been rated significantly hotter than jalapeños, habaneros, ghost pepper, and even the one-time world-champion Carolina Reaper. The only thing that comes close to this degree of peppery power is fellow spice-extract sucker Toe of Satan. In a nutshell, this stuff is not for the faint of heart or those with weak stomachs.

Talk about hot chocolate.
Red Hots
The same devilishly delicious game of Burn or Bliss is also available in a red candy melt variety. These cardinal chances at capsaicin overload maintain the same size and heat as the classic milk chocolate version. With a sweet (and possibly very, very spicy) flavor, they're every bit as fun. Pair them up with a milk chocolate set and play the Spicy Checkers Challenge!
Ingredients: sugar, vegetable oil (palm kernel oil and hydrogenated palm kernel oil), whey powder, whole milk solids, nonfat dry milk solids, FD&C red #40 lake, soy lecithin salt, artificial flavor, 9 million Scoville heat unit chili extract. Contains: milk, soy. Made on equipment that also processes wheat & peanuts. Made in a facility that also processes egg & tree nuts.

Always bet on red.
Burn or Bliss: Unboxing
Jon and Joey, members of the Vat19 video team, take a first look at this hellishly hot challenge.
Frequently Asked Questions
Question: What if I ate all of them at once?
Answer: Since about half of the chocolates contain extremely concentrated capsaicin extract, you'd definitely feel intense heat.
Question: Should I prank someone with them?
Answer: No, that would definitely be a very mean prank. We think the game aspect of Burn or Bliss makes sharing them with your friends and freely choosing to take a chance of eating a super-spicy chocolate to be plenty of fun.
Question: What's with the Red Candy Melt version?
Answer: First, we thought the color looked amazing and very appropriate for a spicy challenge. Second, it allows you to play checkers (or any other game you can imagine). Enjoy!
Can't live without it?
Smash that 'Add to Cart' button!
Burning Questions: You Ask, We Answer
Your questions that have been answered by the Vat19.com staff:
Sort by: Show Only:
Want to ask your own Burning Question?

First, please watch the

video

to the right. It explains the Burning Question feature and answers some common questions.

Now, if there is something that you need to know about this product that we've omitted, please send us an anonymous question and we promise to answer it within 1 business day.